What is product sampling good for?
Imagine having the best product idea in the world that could rival the most prominent business names in the market today. It even comes with an awesome strategic business plan with meticulous consideration of demographics, competitors, and research.
Everything goes according to plan, and the business is open for consumers to come in and flood init, but weirdly enough, nobody came. The place was empty.
In between the amazing product and the strategic business plan, what went wrong?
What this amazing business venture lacked is brand awareness. It is a dog-eat-dog world out there, and if people do not know anything about you, no matter how fool-proof the business plan is, it will not succeed.
There are a few ways to get more consumers for your product, and the answer is product sampling.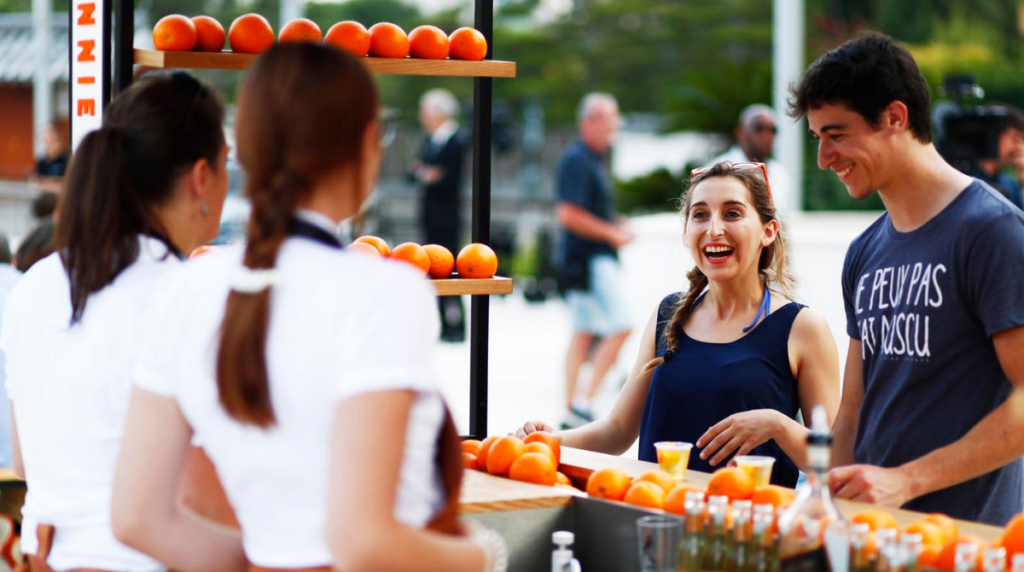 Let's start with the definition of product sampling. Then discuss product sampling distribution, effectiveness, and ideas. The ultimate goal of this article is to highlight how product sampling can help your brand and product. Let's read below.
---
In the following you will find:
What is Product Sampling?
Why is Product Sampling Important?
What is Product Sampling Distribution?
How Effective is Product Sampling?
What are the Product Sampling Strategies and Techniques?
How to find good product sampling ideas?
Best Way to Sample Your Products
---
What is Product Sampling?
Product sampling is simply handing out free products, as a trial run, to potential consumers.
It started back in the 1850s by a soap manufacturer who realized that handing out free samples grew his business. Nowadays, product sampling has become a widely used strategy across many different industries.
As an added twist of the product sampling evolution, we are now moving into the digital realm, with brands targeting new consumers through social media and email with e-coupons and special online-only offers.
Read more: Partnering Social Media Marketing with Product Sampling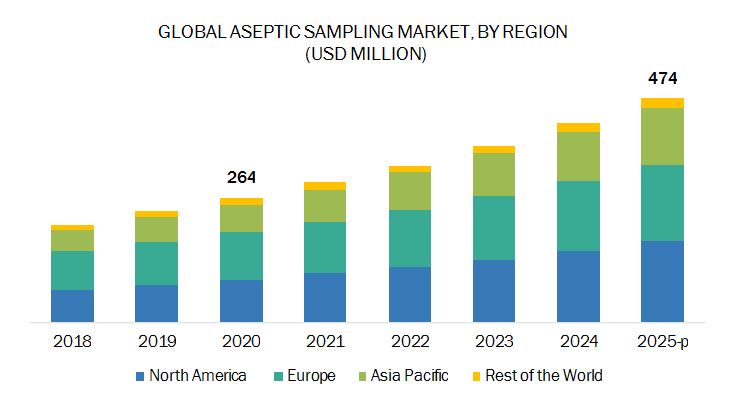 Read more: Â The Ultimate Guide To Product Sampling Marketing
Why is Product Sampling Important?
Product sampling is extremely important for various reasons. A few important ones are listed below:
1- Increases exposure (Brand Awareness).
2- Allows consumers to get a taste of your product and leave them wanting more.
3- Product sampling allows consumers to leave feeling confident about their purchase.
One of the first problems of launching a new product is its unfamiliarity to the mass population. Product sampling is a great way to remedy this problem and allows any new company to build up good testimonials from its consumer base.
By integrating samples into your budget, you will learn a great deal about your target market, as not only can you get this positive feedback, but you will also surpass consumer expectations and gain an advantage when it comes to your rivals.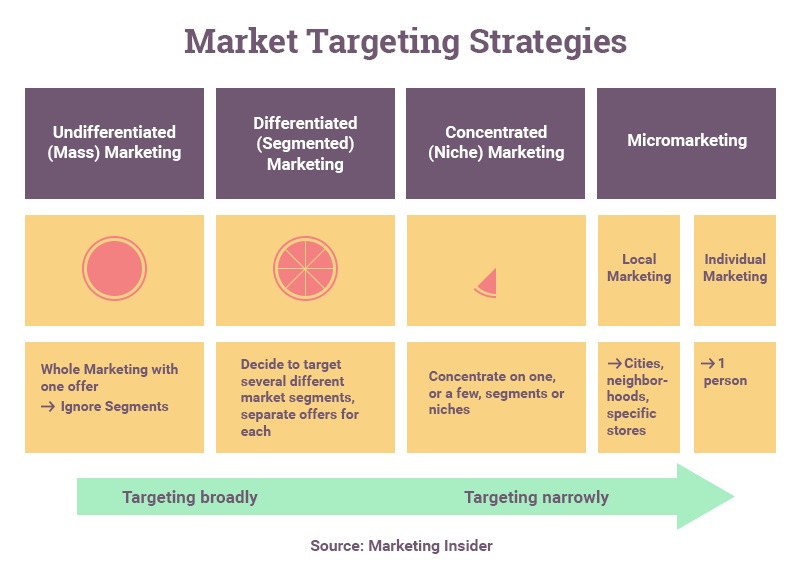 It can be very cost-effective to allow product samples to be added to the marketing campaign, as it can save money in the event of problems or errors of mass production of your product itself.
What is Product Sampling Distribution?
The product sampling distribution is an insightful way for brands to learn what their consumers think of their products.
If it is liked, it will boost the sales and order bookings and vice versa. However, this work needs to be treated tactfully, and that can only be achieved if you have a trustworthy product sampling distribution company at hand.
Read more: The Psychology Behind Product Sampling Programs
How Effective is Product Sampling?
Let's discuss the effectiveness of product sampling.
There are 3 main points to consider as to why product sampling is extremely beneficial to a brand's success.
Read more: Maximize the Success of Your Product Sampling Campaign
It brings in attentional traffic towards the product, gives firsthand information about what customers think about it which is excellent for improvement purposes, and lastly it builds person-to-person contact with the consumer and therefore sets up foundations of trustworthiness.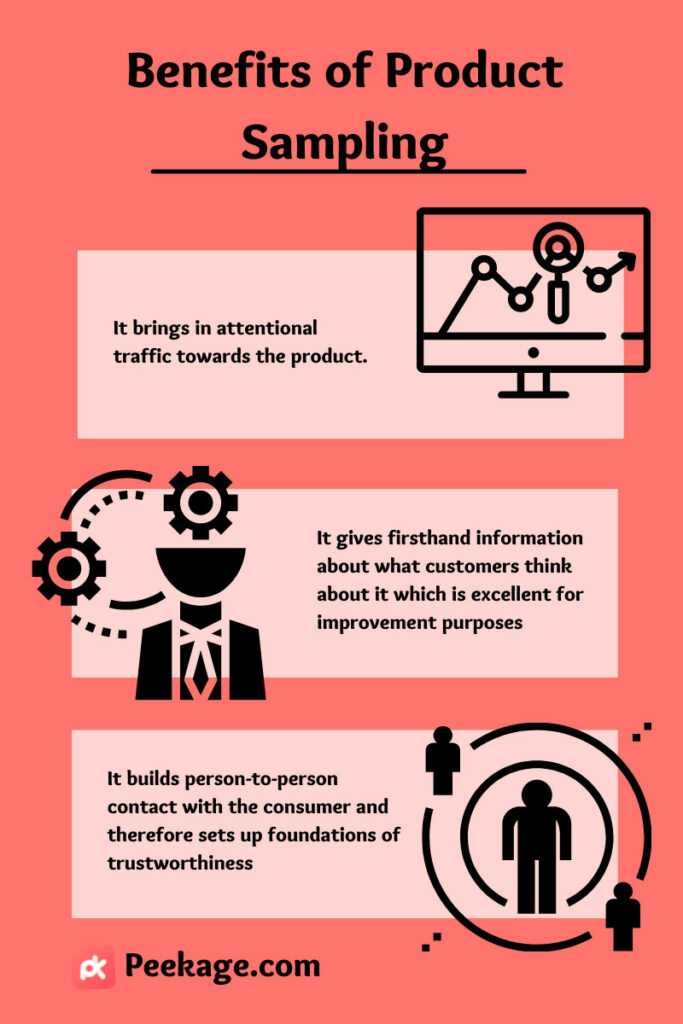 Let's review these points one by one.
1- It is destined to drive sales
Firstly, product sampling is a perfect way to drive sales. This is supported by Arbitron and Edison Media Research's "Product Sampling Study", which found that 35% of consumers trying a sample would buy the sampled product on the same shopping trip.
This happens because the product is new in the consumer's mind.; As as long as they have enjoyed it when they are in on the market for a similar product, they are most likely to think of your product first.
This may well explain why 24% of those surveyed in the survey by Arbitron and Edison Media Research believed that a sampled product had explicitly replaced an item they intended to purchase.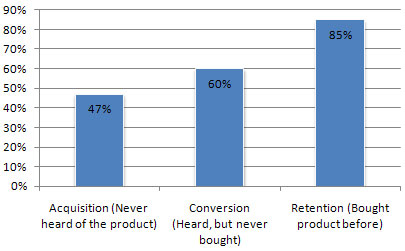 2- Consumers response to product sampling
This is just one of the product sampling advantages that are generally overlooked - the modern consumer needs to test before buying.
This is demonstrated by the EventTrack survey by EMI, which found that:
65 percent of consumers purchased the product or service advertised at the event or visit, and
78 percent, responded when asked what influenced the purchasing decision, responded: "They gave me the opportunity to try it out first."
That first contact with a customer may also set the brand's reputation as trustworthy. Not only that, when a customer likes the product, it is highly likely that they will tell their friends about it.
Another cool thing about product sampling is that companies bring in real-time reviews of their products from consumers. Although secondary information is easily accessible to big business companies, it is a challenge to swim through that massive amount of information and actually get what you need.
Gathering insightful and specific data can be time and money-consuming. Product sampling gives companies person-to-person interaction with consumers and serves as a suggestion box.
3- It leads to retention.
The value of 7 new ones is worth 1 retained client (Adobe). Then, remember that you have a 60-70% chance of selling to a current consumer, rather than 5-20% of selling to a new prospect, and it is clear that you should be looking at all costs to retain consumers.
An individual who regularly does groceries may bring in fifty thousand dollars worth of income a year for a particular store. Imagine how much that would be in a total of that customer's lifetime; A lot. Imagine, also, losing that customer to another convenience store next door.
Retention is very important to the business because not only is a customer's lifetime value incommutable, it also costs a lot.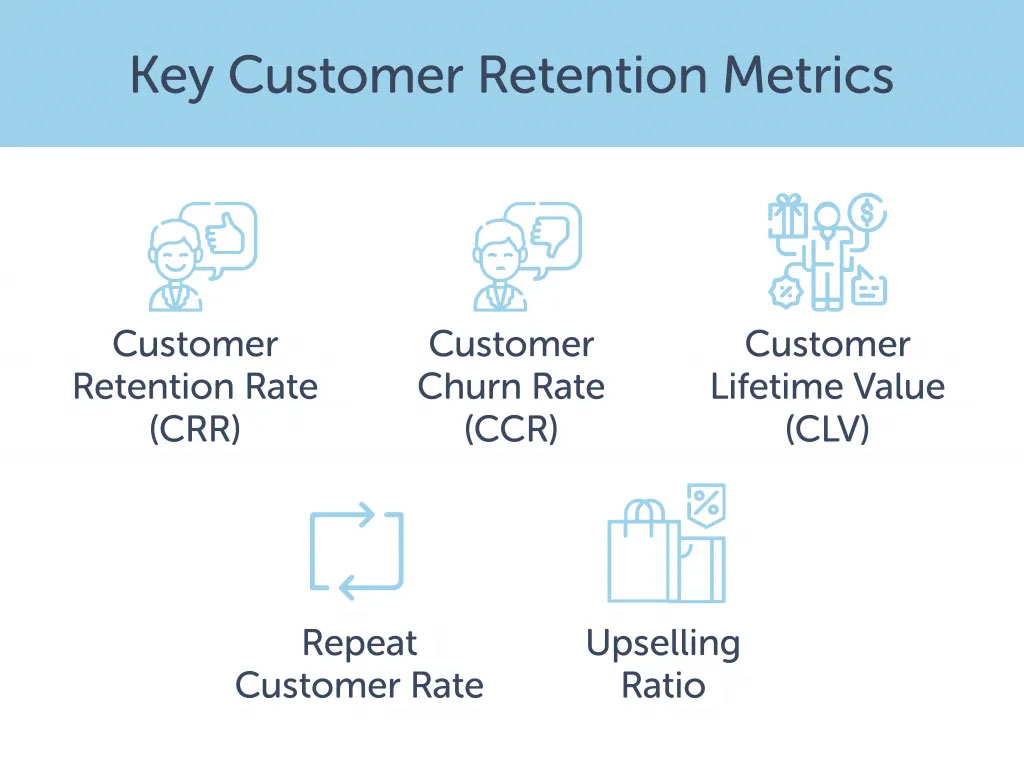 Maintaining consumers can be achieved by giving back to your existing consumers. It is important to nurture the relationship, offering more value than you are considered to take.
This can be attributed to the generous nature of product sampling, which shows that a brand is not solely motivated by revenue, even though sales are actually the ultimate target!
What are the Product Sampling Strategies and Techniques?
Companies must have a specific goal in mind before doing product sampling. Resources are valuable, and they should be used to benefit the company and its consumers.
The next step is defining the target audience. Defining the target audience will set the tone for the marketing campaign and marketing research, which involves product sampling.
Lastly, launching products first before product sampling is a myth. We will review 3 of the key points below.
1- Define exactly what you are trying to accomplish
Maybe you're trying to produce a high number of feedback for one single product, or maybe you're hoping to generate reviews from several products in your product catalog.
Either way, in order to run a good product sampling program, it is crucial to consider your end goal.
2- Define your target audience
Make sure that the individuals who get your samples are part of your target consumers. This will mean that you are spending your resources on dedicated recipients and, in turn, you will see higher conversion rates.
Choosing which segment of the population you want to target is important because this sets how the product will be positioned and differentiated from other competitors.
3- The right time for your product sampling campaign - a busted misconception
A common misperception is that you need to wait for your product to launch before running a sampling campaign. It is, in fact, a misconception.
Instead, it would be best if you considered running your product sampling campaign before you launch in order to gather valuable feedback from your target consumers.
This gives brands plenty of room to correct any errors with their product to optimize their consumers' satisfaction.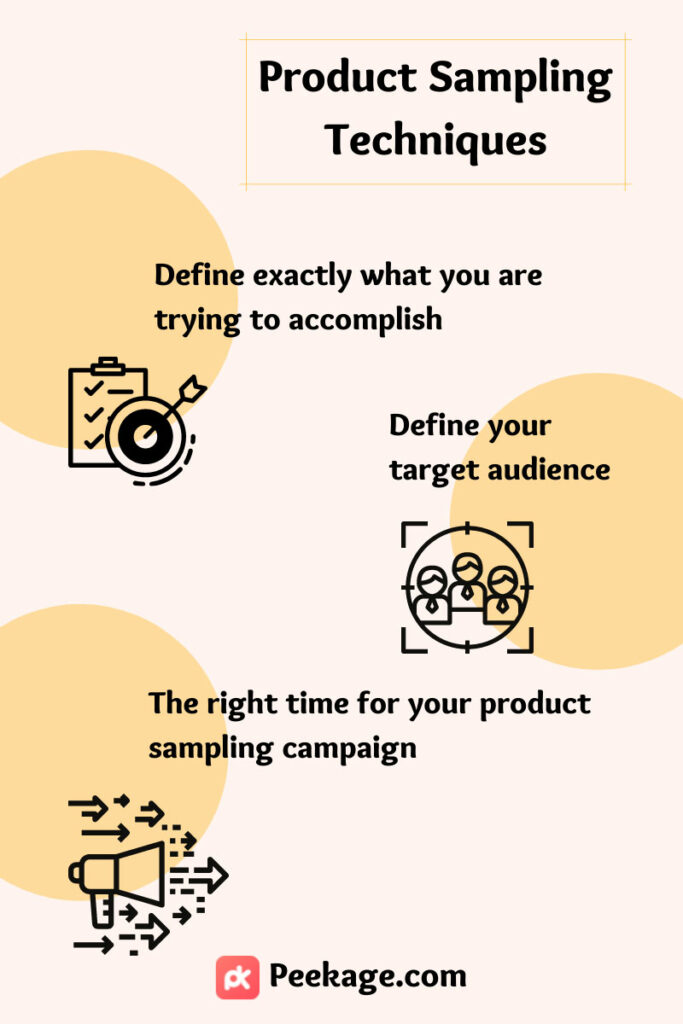 How to find good product sampling ideas?
Research, research, research.
The way to find the right product sampling idea for your brand starts with research.
Additionally, you can spend your resources and time on finding the right product sampling specialists to take care of everything for you. A company like Peekage, a digital product sampling platform.
Two of the most frequently used product sampling ideas are listed below:
1- Open call samples
One of the most used ways to sample nowadays is to leverage social media. This tactic widens your chance to get more samplers from different backgrounds.
The overhead cost for this strategy is very low compared to other forms of product sampling.
2- Partner with charities and offer product samples with a donation
Partnering up with a charity not only helps your PR, but it will also increase your sale in the long run. Encouraging your consumers to donate to a charity of your choosing and, in return, send them a product sample.
Additionally, this will help your branding and benefit the charity you have chosen to support.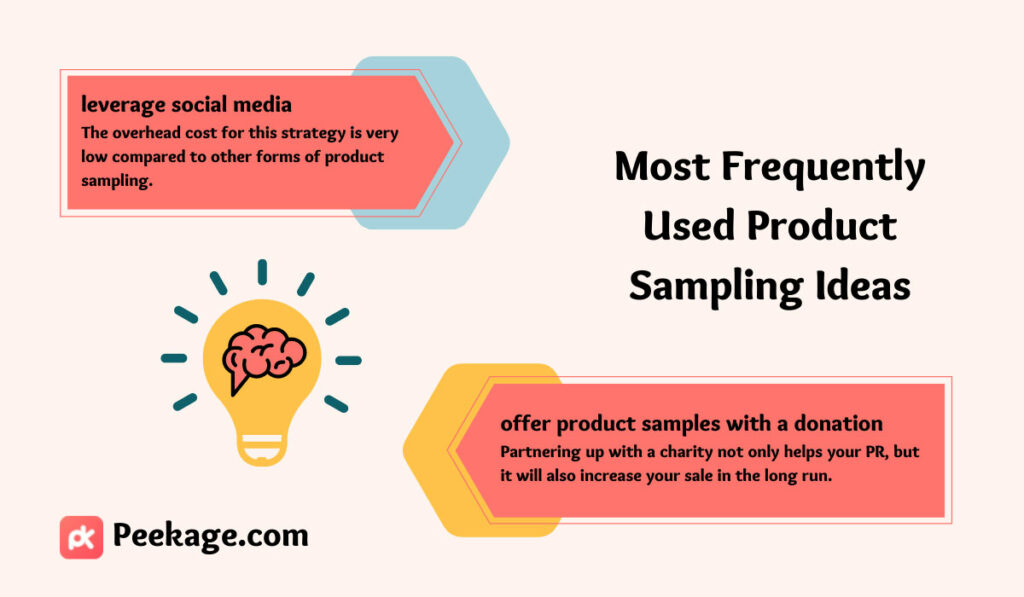 These two product sampling ideas are widely accepted and frequently used by the product sampling industry.
However, it is important to note that product sampling companies such as Peekage go above and beyond the ideas listed above to curate unique solutions or product sampling ideas to specific brands' needs.
Best Way to Sample Your Products
As a business owner, it is hard to swim through the massive amounts of data available on the internet. It is hard to tell which ones you need and which ones you don't.
Secondly, intentional research such as surveys and actual experiments is time and money-consuming.
Peekage saw the problem with data mining and thought of an efficient way for businesses to gather firsthand information from consumers digitally. It uses Artificial Intelligence to match targeted samplers with the products they want to try.
In exchange for rewards, Usersusers are sent products they want to sample, and in return give an insightful report on the specific brand.
This allows brands to reach a broader network as consumers learn about the product firsthand.
Key Takeaways
1- No matter how good of an idea a business proposition is, customers still drive the demand for the product.
2- There are a number of ways to grab a customer's attention, and one of the most efficient ways is through product sampling.
3- Product sampling provides interaction with the customers and is a starting point to build a foundation of trust. This is important in maintaining customers and linearly raising up your sales.