As a growing business, it is essential to find new ways to establish your product's presence in the market, drive brand awareness, and boost your sales.
To stay on track and realize these goals, there's one thing your business needs: to reach and keep customers.
In more recent decades, product sampling marketing has taken off and product sampling strategies seem to be evolving constantly. From simple in-store samples to a new digital era of more effective product sampling methods using online platforms, we'll dissect it all.
Read more: Measuring a Product Sampling Campaign: How and What to Measure - Process and Metrics
---
In the following you will find:
What is product sampling marketing and how can it help your business?
Why product sampling works
Product sampling practices: advantages and obstacles
Business innovations: digital sampling solutions
The sampling network
Key Takeaways
---
What is product sampling marketing and how can it help your business?
The science behind product sampling is becoming more and more important as brands seek to connect with a greater audience and immerse customers in both their products and the experience of their brand as a whole.
Product sampling psychology
The psychology of product sampling marketing can be explained by three main factors:
Risk aversion: It is a win-win situation for customers. They can try new products without purchasing or any obligation on their end.
Reciprocity: By giving out free products, customers tend to feel indebted. They will feel an urge to reciprocate it in the future.
Sentiment: With product samples, customers find a chance to smell, taste, and generally experience the product.
Read more: The Psychology Behind Consumer Sampling Programs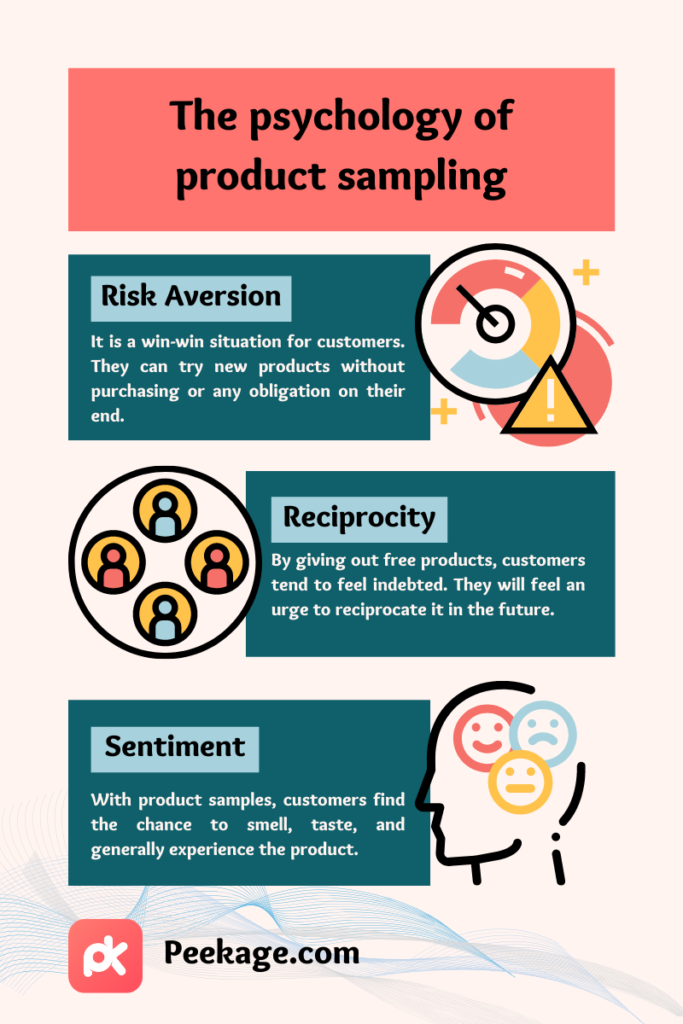 It sounds technical but, essentially, both customers and brands welcome product sampling services because there is little to lose for either party involved.
And if there's one thing that all sampling techniques have in common, it's the aim to engage consumers through a more involved and personalized experience.
Read more: An approach for determining optimal product sampling for the diffusion of a new product
Over time CPG (Consumer Packaged Goods) brands, in particular, have grabbed a hold of this game-changing tactic.
Impacts of product sampling marketing
Products sampling can help your business in four major ways:
It allows brands to reach a broader network of consumers
It allows consumers to learn about the product and try it first-hand
Digital product sampling has made product sampling marketing more efficient
Digital product sampling using online influencers and e-commerce options makes it possible for consumers to order free samples online to be delivered directly to their homes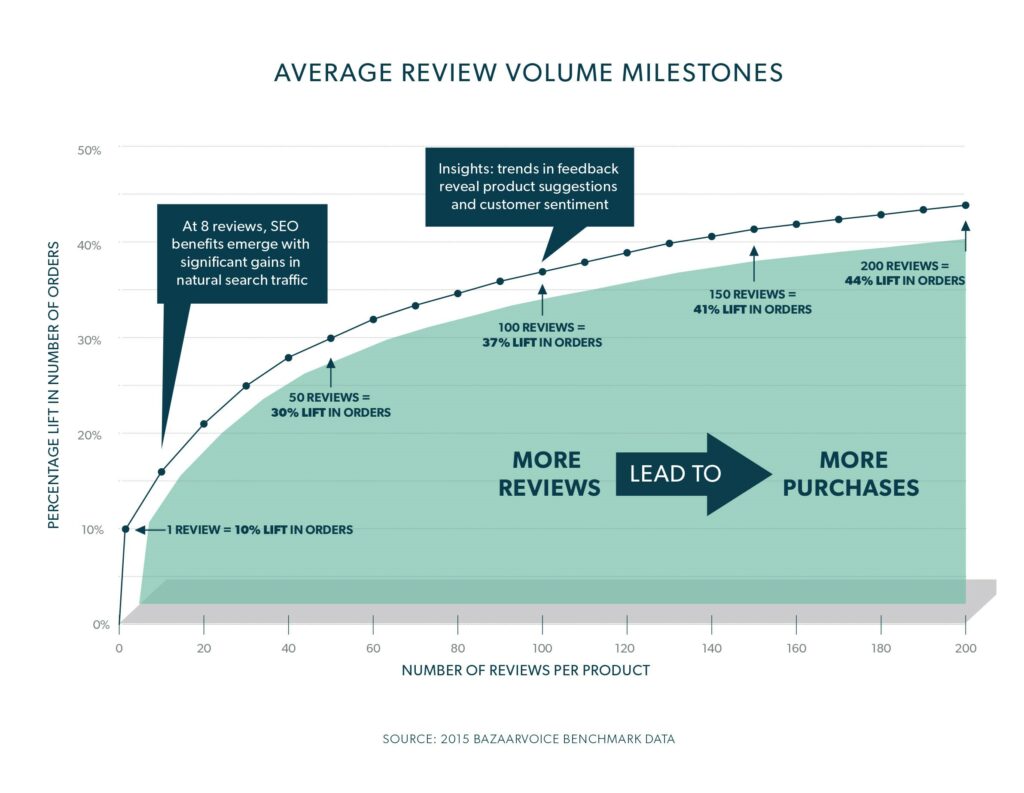 Why product sampling marketing works
Allowing consumers to test products pre-purchase has been a driving force behind increased sales and better brand awareness.
Product sampling marketing through digital platform opportunities has shown a noticeable increase in sales conversions, and it was found in a study by Edison Media Research that 35% of customers who try a sample first will buy the product on the same shopping trip.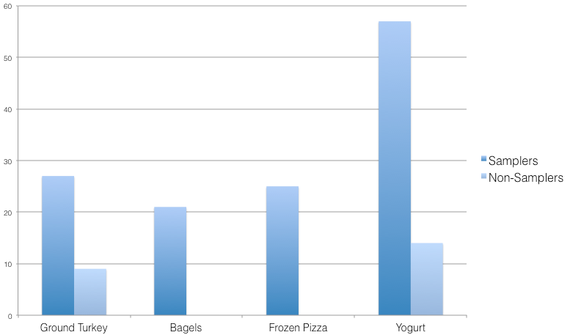 According to the Journal of Product Innovation Management, sampling has both an immediate effect and a sustained impact on sales.
Some recent examples
Sephora: With every merchandise order online at Sephora dot com, customers have the opportunity to select two free samples that will be delivered to their doorstep along with their order.
"It's not enough to just sample, you want to make sure it is smart as a marketing tactic."

Abigail Jacobs, Vice President of marketing at Sephora
The big-name beauty store has seen a strong boost in sales since implementing the sampling campaign.
Glade: Another interesting example is the story of Glade. Partnering with Walmart, Glade filled the packaging pillows in the delivery boxes with their new air freshener so that customers unpacking their Walmart groceries could get a sense of the fragrance.
Last year, the Scent By Glade campaign brought about a whopping 83% boost in sales of Glade's fragrances during the first week.
Product sampling marketing practices: advantages and obstacles
Here you can find the obstacles and advantages for different product sampling marketing practices.
A)

Direct methods
Sample hand-outs in store
Experimental events
Street corner sample promotions
Advantages: Direct methods can help stores and businesses reach new customers, make their products more visible and engage their consumers through a personalized experience of the product.
Obstacles: There is often a lot of product waste and very little targeting since samples are handed out to those who may have no real interest in this type of product.
B)

Mail Delivered Sampling
advantages: This is an effective solution that can help brands ship samples both locally and internationally to reach a wider range of consumers.
Obstacles: Mail Delivered sampling options provide very little or, sometimes, no feedback to the brands.
C) Online influencers sampling
Advantages: This is an effective solution as influencers help build unique relationships between their followers and your brand. This method can also help your business reach a larger audience while achieving better brand awareness.
Obstacles: Â Using brand influencers makes measuring ROI remarkably difficult. This product sampling marketing method also falls short in the way that little insight or feedback is received from consumers as there is no direct interaction between the business and the user post-testing.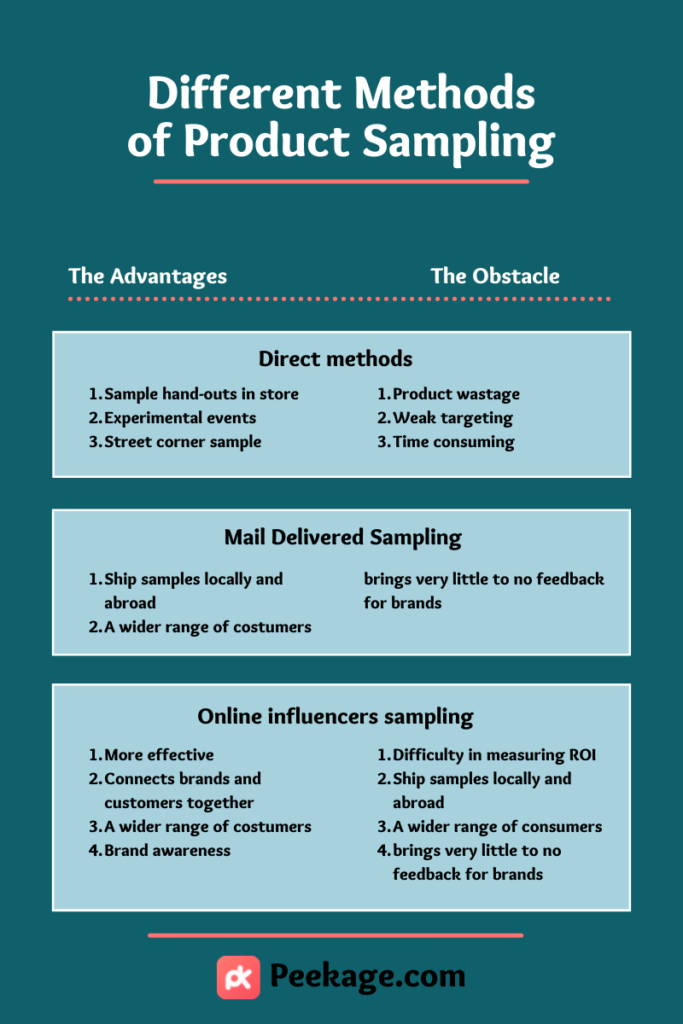 Business innovations: digital sampling solutions
A digital product sampling company like Peekage is a great example of an efficient product sampling marketing solution. Peekage has taken on an innovative approach by introducing a platform that uses AI to match targeted samplers with products.
This allows samplers to pick from a variety of matched samples and order them to be shipped for easy, at-home delivery. By implementing this 'pull' approach, it stops brands from pushing products that some consumers may actually show no interest in.
The Peekage App also introduces an interesting and inventive system where users are rewarded for sharing their voices with brands.
Peekage uses sentiment analysis to generate an actionable insight report for brands. That gives them a better understanding of how consumers feel about their products based on the feedback that's been shared.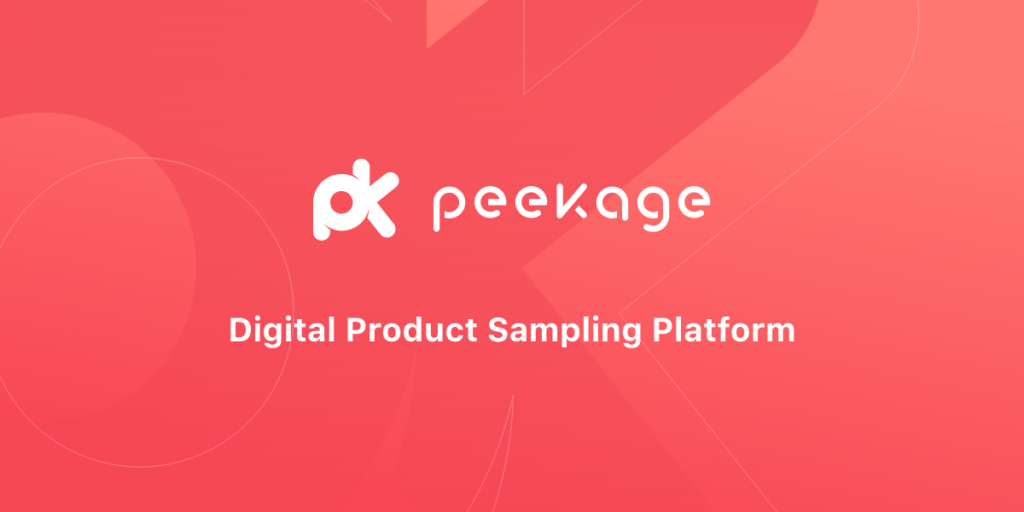 Peekage's new way of product sampling marketing involves two main types of services:
A self-service, digital sampling solution
The creation of a sampling network through building a broad network of samplers using the Peekage app
Why you should choose Peekage as your digital sampling platform
Businesses also have the option to take advantage of Peekage's digital sampling network. Brands can reach a broad network of new users through the Peekage consumer app.
Peekage app creates a convenient and easy process for users that allows them to select from a range of relevant, free products to be delivered directly to them for sampling.
By getting greater exposure through using the app, brands can test a new market to get feedback or introduce a new product.
Businesses can also aim their product sampling marketing campaign towards a specific segment in order to try out a new product, get better market feedback, or gather user reviews and ratings.
Businesses have the additional option to use the Peekage sampling widget to convert their own website or social media traffic and offer product samples to visitors who land on their page. This service is a plus for D2C (direct to consumer) brands that can use this alternative distribution method to showcase their products to consumers at home instead of fighting for shelf space in-store.
More Features of Peekage
Peekage also makes it possible to develop a process that gives consumers the opportunity to share their genuine feedback and reviews with brands. The online product sampling platform offers performance measurement for sales and social engagement too.
In this way, your business can follow customers through their purchasing journey instead of losing them as they leave the store or your website's digital front door.
What's great is that, with the advancement of technology, Peekage's sampling network is affordable and within the same budgetary range as most social media marketing campaigns.
In addition, when compared to the average conversion rate of CPC marketing, targeted product sampling marketing delivers a double-digit conversion rate - a perfect example of product sampling effectiveness. Peekage also allows your business to shed some of the burdens of the shipping costs.
Instead of carrying the full weight of shipping costs, Peekage's co-op options will let businesses split logistical costs by matching certain products together and sending them all in one box instead of each business paying for exclusive shipping.
This makes room for a much more cost-effective shipping process and could save your business a lot of money in the long run.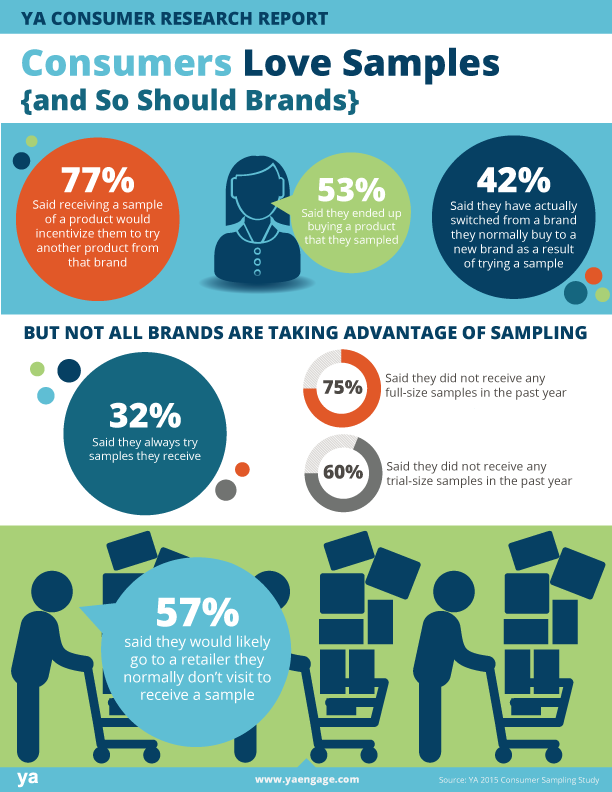 Key Takeaways
Adopting a product sampling marketing strategy is a key resource for brand enhancement.
Within this new digital age of insightful sampling, a strong consumer product sampling campaign can create a more immersive customer experience through online platforms.
A strong product sampling marketing program is a worthwhile investment due to accelerated sales conversions, better brand exposure, and greater loyalty-building.
Of all the various product sampling marketing methods, digital product sampling comes out on top.
A product sampling company like Peekage would help your brand to rapidly convert users into purchasing customers and increase sales through targeted product exposure and streamlined feedback collection, at lower costs than any conventional channel.
Why not take this opportunity and run with it? Start talking to an experiential marketing expert to help you navigate your way around the various solutions.
Ultimately, the most important thing to remember is to choose a product sampling strategy that genuinely enhances your brand, provides the optimal conversion to sales, and gives you the best return while staying within your budget.