Product sampling has been a familiar method of marketing for ages. Everyone loves a good Costco sample, and nobody says no to a luxurious bathroom gift basket. Yet, product sampling, like any other marketing method, has to be updated to cater to the needs of the digital era.
Let's dive in and see what's new in the world of product sampling and how digital product sampling will revolutionize our industry.
---
In the following you will find:
What is Digital Product Sampling?
How Does Digital Product Sampling Work?
What Are Some Digital Product Sampling Benefits?
What Are Some Recommended Digital Product Sampling Tips?
Peekage Features and Benefits
Key Takeaways
---
What is Digital Product Sampling?
Digital product sampling is a digital method of sampling that allows your brand to narrow down your target consumers and reach them in an optimized manner by analytics and more. The concept of product sampling has been around for a while.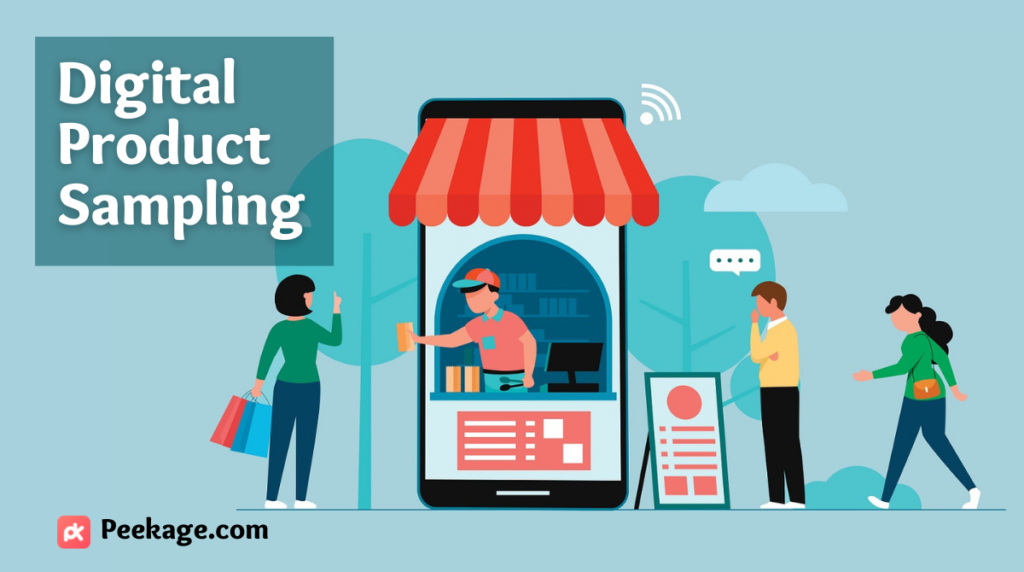 Companies have used product sampling in stores either in the form of:
Product testers
Take-home samples
These methods are what we like to call the traditional way of sampling. However, since the digital revolution, brands have had to develop innovative ways to stay relevant in the market, and digital product sampling became a way to consumers' hearts.
Traditional product sampling is a great tool to ensure that as many consumers as possible try out the product, which in turn raises brand awareness.
However, digital product sampling provides data and analytics that allow brands to trace consumer insight and behavior.
Read more: The Psychology Behind Consumer Sampling Programs
With digital product sampling, businesses can target specific consumer groups and demographics. Using this novel method of marketing, brands get to curate their products exactly to the taste of their targeted consumer group. Essentially, digital product sampling helps your product reach product-market-fit status faster.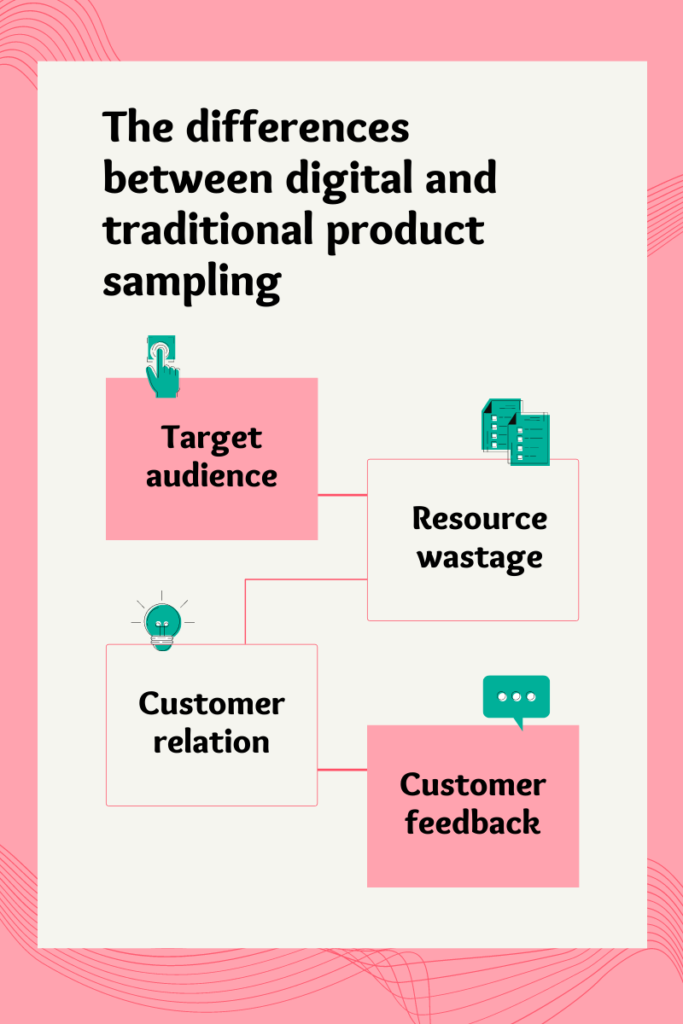 To sum up, it gives marketers a closer look into the audience's mind and preferences and offers consumers a personalized touch with the brand.
How Does Digital Product Sampling Work?
Digital product sampling depends on several strategies. Let's walk through the digital marketing strategies step by step:
The first step for the brands is to identify what product they want to distribute and why. Understanding the motives and goals of the brand before giving out any free samples is crucial because digital product sampling is a data-driven tool.
The second step is to identify your target audience - the individuals you want to cater to and analyze.
The third and final step is to pick the right platform to help you achieve your sampling goals. And Peekage is highly recommended!
Peekage is a digital product sampling platform that helps your brand move swiftly through all three steps, regardless of your company size. Whether you have a small or medium-sized business or run a big enterprise, Peekage can assist you in your product sampling journey.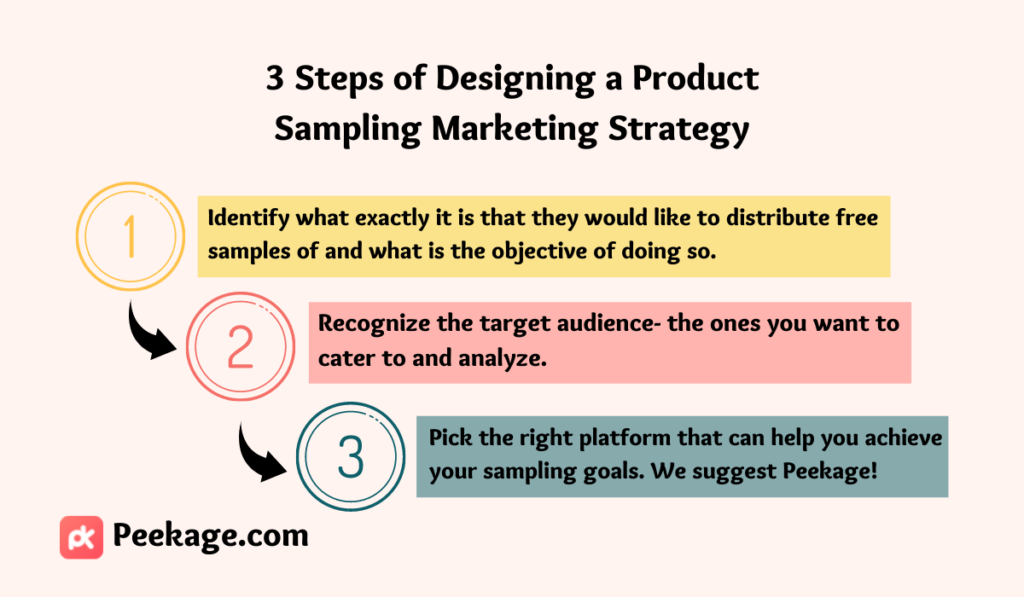 The idea of giving away free samples may seem risky, but we are here to assure you that it will be worth it.
If you intend to launch a new product into the market and hope to minimize risks during and post-launch, digital product sampling has been proven to achieve higher conversion rates than any other marketing approach.
It is easier to catch eyes eyeballs when consumers know that they will be getting something for free from your company.
Depending on your campaign goals, you get to choose what type of sampling is right for your brand. Yet, direct product sampling has proven to be effective and also provides a personalized touch that shows your consumers that you care about them.
Digital product sampling is the best direct marketing method, and it encourages customer engagement.

Read more: How to Reach Consumers During COVID-19 Using Product Sampling
What Are Some Digital Product Sampling Benefits?
While we have already covered some of the pros of digital product sampling, here are other significant and unique benefits of this method:
1. Cost-effectiveness
When it comes to cost, product sampling outperforms most other marketing strategies. Since you get to gather samplers' feedback live before your product launch, you get to make any necessary adjustments to your product and save a fortune down the road.
With sampling, you get to supply a large demographic using limited numbers of your product, meaning that you get consumer feedback before hitting the mass markets for a negligible to zero cost price.
The highlight of digital product sampling is that your brand can save money even more because there are no expenses for shipping or organizing any physical booths.
You also get to capitalize on your consumers' online audience in social media, increase your sales, and recognize your trending products.
To sum up, digital product sampling is highly cost-effective.
2. A rise in sales
Brands that use the digital product sampling method have better conversion rates across all channels than brands that use other methods. With digital product sampling, you can set long-term and short-term sales goals and track them easily.
Some brands that have found success with their product launch with the help of the digital product sampling process include General Mills, Splenda, and Oreo.
3. Brand loyalty and awareness
Another great advantage of digital product sampling is the potential to cultivate brand awareness and brand loyalty. Product sampling activates a cognitive action to reciprocate.
In layman's terms, free samples push consumers to promote your goodies on their social media, which allows you to grow your audience base via their network of friends and followers, resulting in more consumer awareness than you originally bargained for.
Giving out free samples pushes your consumers to promote your products on their social media, which helps you in your brand awareness.
Read more: The Psychology Behind Consumer Sampling Programs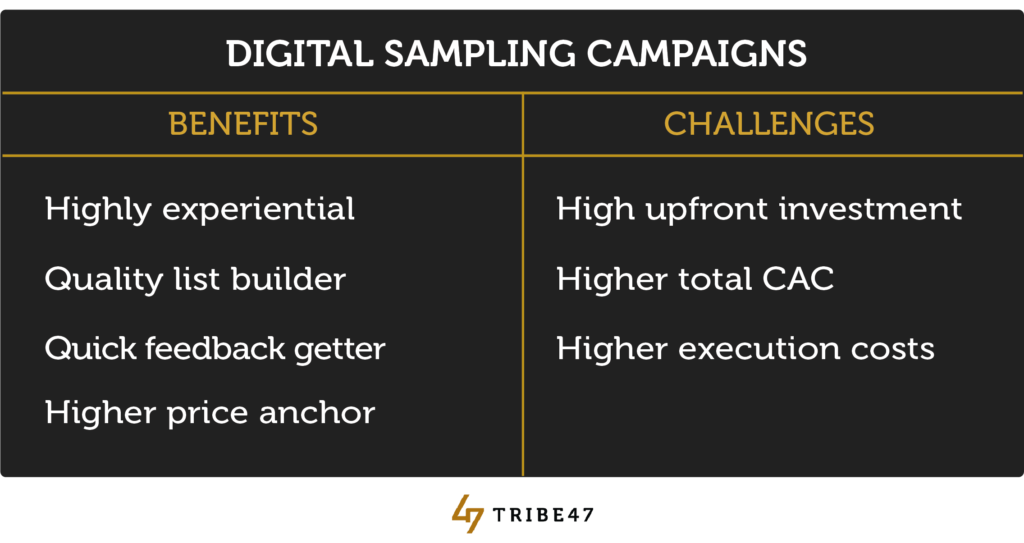 4. Influences buying decisions
Consumers often list pros and cons on websites like Amazon or Reddit; this means that whatever your first set of consumers write about heavily guides the rest of the market.
Sampling items before purchasing them and receiving free goods at the comfort of their home can keep your consumers happy. It signals that your brand prioritizes their convenience.
To sum up, receiving hassle-free products makes consumers happy. It propels them to write good reviews about you, which in turn affects the whole market of potential consumers who read product reviews.
How much does product sampling marketing costs?
The cost of a product sampling marketing campaign wildly depends on the product and the brand's goal, as well as the number of needed samples. But a general rule of thumb is that it will cost something $.15 to $1.50 per piece to distribute your samples.
You can choose low-cost programs, like fulfillment boxes and inclusion in multi-brand sample boxes; Or a higher-cost program with hand-to-hand, like owning a sample box hand-to-hand with and live tasting events.
These figures should cover all costs from the time your samples arrive at the distribution location. Shipping to the location should be budgeted as an additional cost.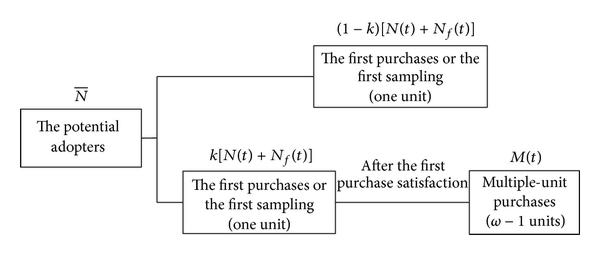 You can manage your product sampling marketing campaign according to your specific budget. Regardless of your company size, Peekage can help you find the best solution at the most competitive price.
Read more: Measuring a Product Sampling Campaign: How and What to Measure - Process and Metrics
What is a good product sampling marketing strategy?
A good product sampling marketing strategy has a different definition for each company. Each brand goes about the process slightly differently, but all successful product sampling programs have some characteristics in common.
Companies with successful product sampling strategy:
Have clear goals and incentives: while all businesses want to boost their sales in the end, the most successful ones define KPIs and important metrics at the beginning to know what they are looking for and make analysis easier down the road.
Align program timing with consumers' life events and purchase patterns: Sampling program success involves more than just getting your product into consumers' hands. It has to happen at the right time, and link to life events that trigger purchases. An excellent example of product sampling marketing is launching a campaign for school supplies just weeks before schools open.
Are not afraid to team up: Smart companies know that taking part in a joint gift package is a good idea because you save loads of money and essentially get the same results. Moreover, it is always better to market yourself besides your competitors (often in the same gift basket) than to go head to head with them. A smart strategy is to let your product quality speak for itself.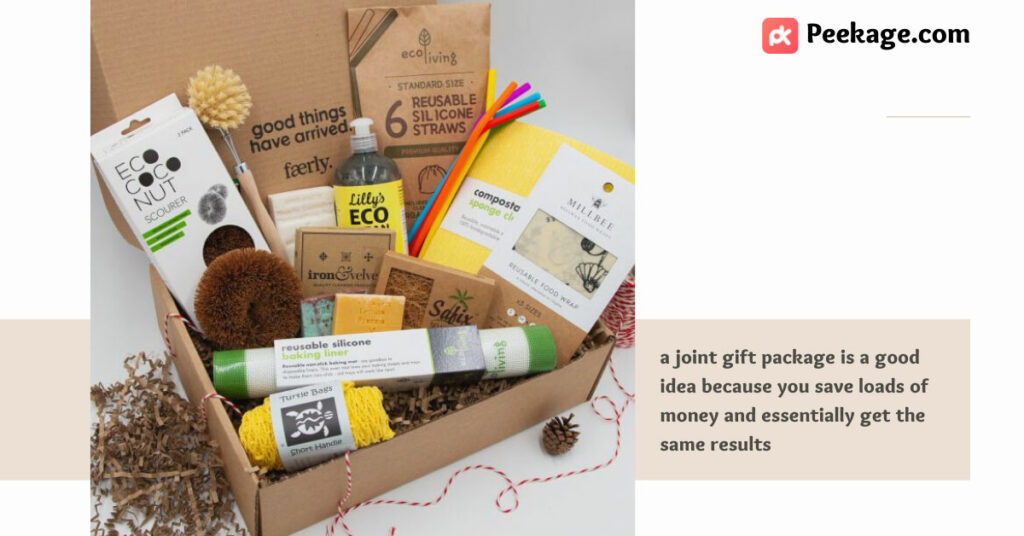 Care about making a lasting connection: whether or not a consumer ends up as a buyer or not, it is always a good idea to keep the communication lines open; this helps to identify why some people turned into loyal customers, and others did not, and makes retargeting campaigns more successful.
Want to make a good personal experience: From product to packaging and delivery, consumers' needs and feelings come first. If the consumer feels special and honored, they are more likely to make a purchase and recommend you to their friends.
So, there is no ultimate product sampling marketing guide and no unified formula that works for every brand. However, there are principles to stick to. Consulting a product sampling expert is often the key to concocting the most efficient product sampling strategy.
What Are Some Recommended Digital Product Sampling Tips?
Some recommended digital product sampling tips that help your brand devise an optimum product sampling strategy include:
Pin down business objectives
On a macro-scale, know what your brand vision is, and on a micro-scale, define a clear-cut mission statement for your product sampling campaign.
Understand your target audience
Understanding people and targeting them for sales are two very different topics. Every potential consumer that you reach is a person with unique life experiences and real emotions, not just a number in your Excel sheet.
Read also: Partnering Social Media Marketing with Product Sampling
Consider different distribution channels
The way you reach your audience is as important as your product itself. Choose a method that reflects your company's vision.
Consider social factors in design and advertisement
Nowadays, more and more companies are being boycotted by the public - especially Millennials - due to what is called the "Cancel Culture." Essentially you need to be careful not to offend anyone with your packaging or comic billboard.
Keep in mind that your audience is getting smarter by the day, and you have to keep up with likes, dislikes, and social trends.
Have a clear call to action
Let your potential consumers know how to reach you, and make it easy. Include information on how to buy more products and make it as straightforward as possible, and have a support line that answers calls, emails, and chats.
Track your progress
There is no point in launching a campaign and not assessing the results. Tracking your progress and checking whether your strategies work is crucial to determining your next steps.
Depending on your campaign's success, you can either work to tweak your strategies to optimize results or stick with them to maintain momentum. Either way, measuring the effectiveness of your campaign is paramount.
Peekage Features and Benefits
So, based on all the information above, are you convinced to take up digital product sampling for your business? If your answer is yes, Peekage is here to help you!
Peekage is not exactly a product sampling company or agency, but it can surely handle the product sampling process much more easily and cost-effectively than any other big corporation.
Why? Well, because:
We make sure the entire process is authentic; Peekage does not use the same strategy for companies of different sizes and goals.
With Peekage, you receive solid and original feedback from your customers about your products live.
There is also a dashboard full of valuable data that would be a real asset for any brand.
In short, Peekage is the whole package!
Peekage aids your brand in:
Market research
Targeted small sampling across platforms
0 to 100 all shipping logistics
So let us be your marketing partner in these challenging times. A global pandemic is stressful enough, and you do not need to worry about your product sampling too.
Peekage is a well-working machine, and it gives you results.
Want to learn more about how digital product sampling works with Peekage?
Stuff you must also find interesting
It never hurts to read a little bit of research and search about what we are about to take on. if we look at recent research, we can see that:
92% of consumers will try a product sample
53% buy the product sample they tried
42% Have switched their brand preference based on testing a product sample
56% like product samples because they are looking for alternatives
77% sat that receiving product sample would motivate them to try another from that brand
Well, statistics put things in perspective, don't they?
To this day, there are over 4,180,000 scholarly results (not usual web pages, papers, books, and magazines) indexed in Google. People are getting more eager to try new things and get free stuff from the internet, and companies are getting more innovative and competitive every day.
When studies suggest something and numbers confirm it, there is no denying it. Product sampling works, and it is the future of marketing.
So hop on the Peekage train, and let's go fiercely into the future.
Key Takeaways
Digital product sampling is data-driven and is the best way to track consumer behavior.
Identifying your business objectives is essential to make sure you are setting up a successful digital product sampling campaign.
Measuring success is crucial, so you know whether your campaign is working so far or whether some changes need to be made to ensure the desired outcome.
Digital product sampling yields higher conversion rates than other kinds of marketing methods.
Consumers are most likely to purchase from a brand that provides free samples than one that relies on traditional promoting methods.
Your target audience should be your first priority. Building a campaign around them is what is best.