Product sampling has been around for ages. Who doesn't love a good Costco sample? As it is apparent, the days of traditional methods of product sampling are evolving.
Let's dive into the article below as we explain what's new in the product sampling space and how digital product sampling is our industry's future.
---
In the following you will find:
What is Digital Product Sampling?
How Does Digital Product Sampling Work?
What Are Some Digital Product Sampling Benefits?
What Are Some Recommended Digital Product Sampling Tips?
Peekage Features and Benefits
Key Takeaways
---
What is Digital Product Sampling?
Digital product sampling is a digital method of sampling that allows brands to narrow down their target consumers and reach them in an optimized manner by analytics and more. The concept of product sampling has been around for a while.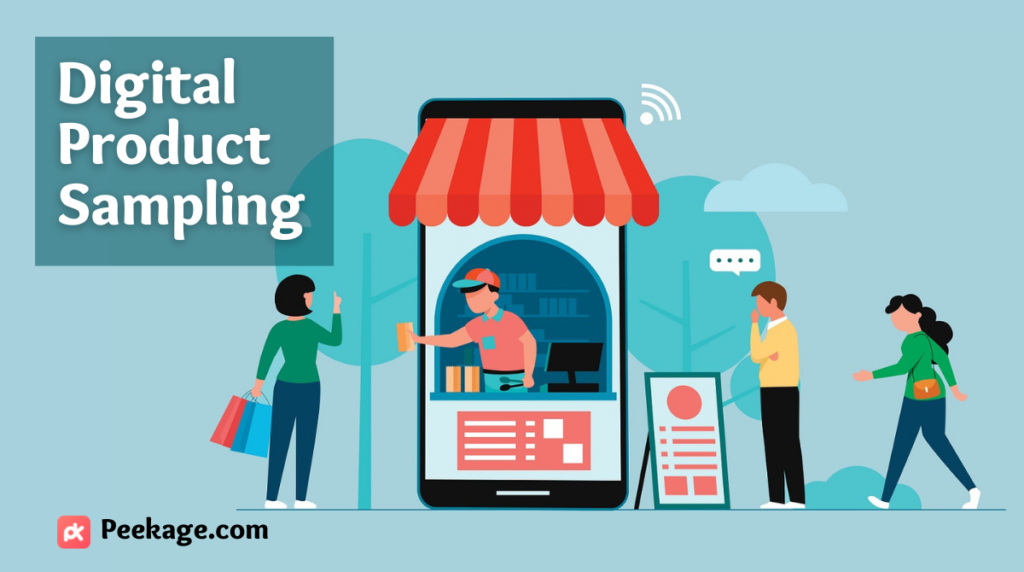 Sampling is a major component of experiential marketing as consumers experience the products themselves in-store or at home.
Companies have used product sampling in stores either in the form of:
Product testers, or
Take-home samples
This has become to be known as the traditional way of sampling. However, since the digital revolution, brands have had to develop innovative ways to stay relevant in the market, and digital product sampling became a way to consumers' hearts.
Traditional product sampling is a great tool to ensure that as many consumers as possible try out the product, which in turn raises brand awareness.
However, digital product sampling provides data and analytics that allow brands to trace consumer insight and behavior.
With digital product sampling, organizations can target specific consumer groups and demographics. Using this technology, brands can now curate products exactly to the taste of their targeted consumer groups.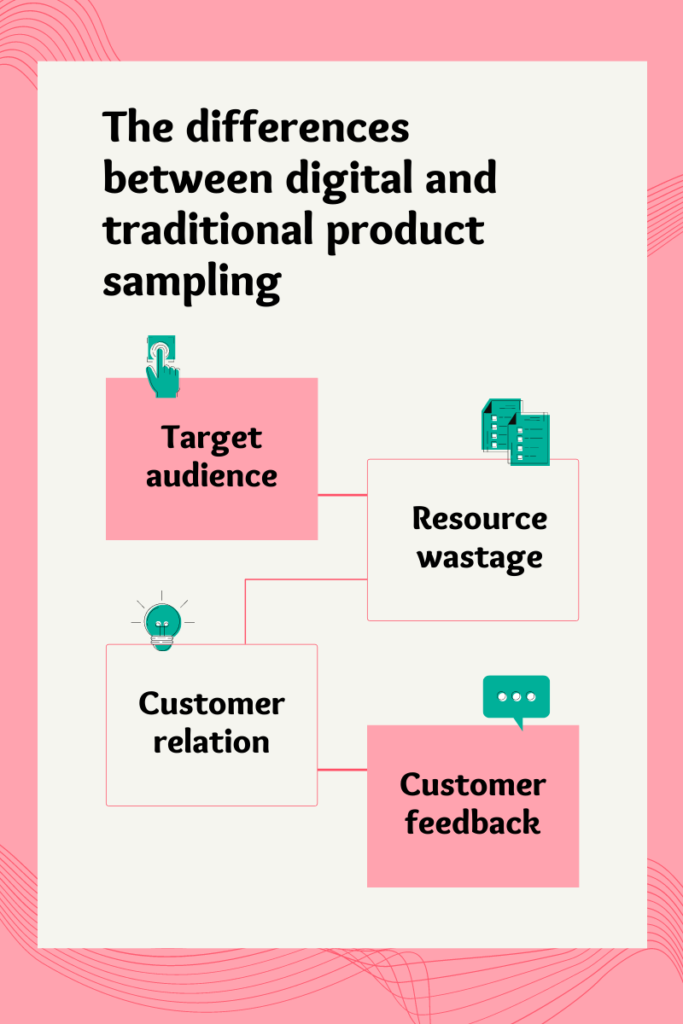 To sum up, it gives marketers a closer look into the audience's mind and preferences and gives consumers a personalized touch with the brand.
How Does Digital Product Sampling Work?
Digital product sampling work depends on several strategies. Let's walk through the digital marketing strategies step by step:
The first step for the brand would be to identify what exactly it is that they would like to distribute free samples of and what is the objective of doing so. Understanding the business aim and the motive behind digital product sampling is important since it is a data-driven tool.
The second important aspect is recognizing the target audience- the ones you want to cater to and analyze.
The third and final step is picking the right platform that can help you achieve your sampling goals. We suggest Peekage!
Peekage is a digital product sampling platform that does just that, plus we are inclusive of both SMEs and enterprise businesses.
Your product trial campaign's effectiveness will depend on what type of sampling you decide to opt for, indirect or direct.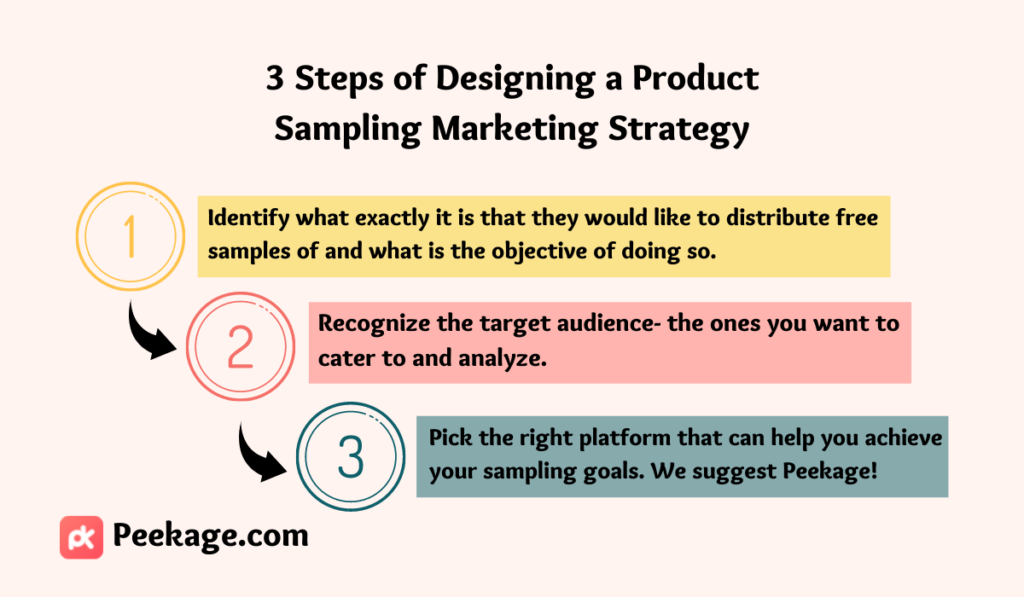 Pick the one that resonates with your brand the best. However, the benefits of product sampling are many. Successful brand awareness is guaranteed while simultaneously gaining the trust of consumers.
Direct to consumer sampling provides a personalized touch and shows that your brand truly cares about its buyers. Digital product sampling is the best direct marketing method that encourages customer engagement.
For example, product sampling is mostly used when companies intend to launch a new product into the market and hope to minimize risk during and post-launch. It has been proven to achieve higher conversion rates than any other marketing approach.
It is easier to catch eyeballs when consumers know that they will be getting something for free from your company.
The idea of giving away free samples may seem risky, but we are here to assure you that the return on investment is worth it, especially since it is a cost-effective strategy.

Read also: How to Reach Consumers During COVID-19 Using Product Sampling
What Are Some Digital Product Sampling Benefits?
As mentioned above, there are several pros to going the digital product sampling route. Here are some of the primary benefits of digital product sampling:
1. Cost-effectiveness
When it comes to the cost, the most significant advantage of digital product sampling is that since this is a trial-and-error phase- all corrections based on the samplers' feedback can be made prior to the launch in-stores instead of post-launch, where the risks are higher.
When delivering samples, only a small portion of the quantity is being supplied to a large demographic, which means that you get consumer feedback for a negligible to zero cost price.
The highlight of digital product sampling is that your brand can save money because there are no expenses for shipping or organizing any physical booths.
With social media at its peak right now, you can also leverage your customers' online audience to increase online sales and find out what your brand's trending products are. All this for no loss and no extra cost! Therefore, cost-effectiveness is a strong advantage of digital product sampling.
2. A rise in sales
Long and short-term sales goals will be met. Conversion rates have proved to be higher for brands that do digital product sampling rather than brands that go for other sales strategies.
It is an easy and convenient tool. Some brands that have launched successful digital product sampling include General Mills, Splenda, and Oreo.
3. Brand loyalty and awareness
One of the main advantages of digital product sampling is that the potential to cultivate brand awareness and brand loyalty. It activates a cognitive action to reciprocate.
Free samples push customers to promote your goodies on their social media, which allows you to grow your audience base via their network.
Therefore, making more consumers aware of your products and business. Free samples also motivate consumers to spread positive word-of-mouth about your brand.
Influences buying decisions: As consumers, categorizing pros and cons is common consumer behavior. Sampling items makes it easier for the consumer to see your brand as one that prioritizes their convenience. When they take the product and try it out for themselves at home, it is easier for them to make a purchase decision.
Read also: The Psychology Behind Consumer Sampling Programs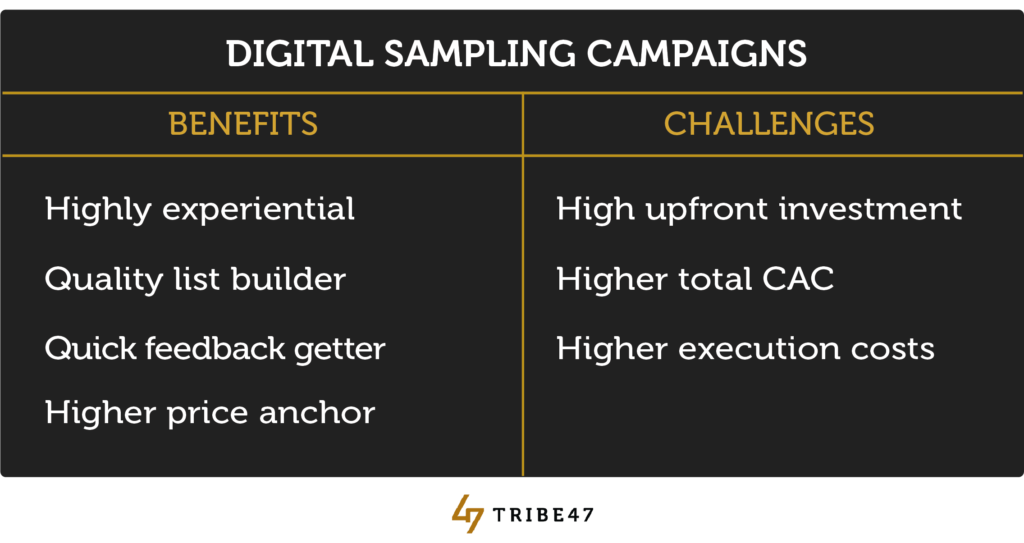 What Are Some Recommended Digital Product Sampling Tips?
Some recommended digital product sampling tips include the following:
Pin down business objectives
Start out with a goal. Evaluate why you want to use digital product sampling and what you think you will get out of it. Understand your target audience and how you can maximize the use of sampling to create a successful campaign.
Overlook distribution
How you channel your online distribution strategies is fundamental. Think about where you want to reach your audience. Your best bet is direct marketing via email marketing campaigns and targets social ads.
Ensure that these social ads are targeted towards your niche with appropriate details and a call to action. Narrowing your social media and sampling strategies can give you the edge you need to create a successful digital product sampling campaign.
Read also: Partnering Social Media Marketing with Product Sampling
Track progress
There is no point in launching a campaign and not assessing the analytics. Tracking your progress and checking whether your strategies work is crucial to determine the next steps.
Depending on your campaign's success, you can either work to tweak your strategies to optimize results or stick with them to maintain momentum. Either way, measuring the effectiveness of your campaign is elemental.
Peekage Features and Benefits
So, based on all the information above, are you convinced to take up digital product sampling for your business? Peekage is here to help you!
Peekage is not exactly a product sampling company or agency, but it sure can do the product sampling process much more easy and cost-effective.
Why Peekage? Here is the quality of our work:
We make sure the entire process is authentic
You receive solid and original feedback from your customers about your products.
There is also a dashboard full of useful data that would be a real asset for any brand. Peekage has it all.
We aid in:
Market research
Targeted small sampling across platforms
And we handle all shipping logistics
so you can relax.
Additionally, with the current pandemic atmosphere, you do not have to worry as we carry out contactless product sampling!
Want to learn more about how digital product sampling works with Peekage?
Key Takeaways
Digital product sampling is data-driven and is the best way to track consumer behavior.
Identifying your business objectives is essential to make sure you are setting up a successful digital product sampling campaign.
Measuring success is crucial, so you know whether your campaign is working so far or whether some changes need to be made to ensure the desired outcome.
Digital product sampling yields higher conversion rates than other kinds of marketing methods.
Consumers are most likely to purchase from a brand that provides free samples than one that relies on traditional promoting methods.
Your target audience should be your first priority. Building a campaign around them is what is best.