Product sampling is costly but highly effective, and it provides you with insights that no other marketing strategy will. Costs wildly vary depending on your campaign goals and objectives. Whether you are aiming to boost sales or to get reviews will affect the cost.
While product sampling requires rather a large upfront investment, it yields great results in terms of return on investment, making it a sensible marketing strategy.
---
What you will find in this article:
What is the minimum price for product sampling?
How is the price of a product sampling calculated?
What factors contribute to the cost of a product marketing campaign?
How to reduce product sampling costs?
Get to know Peekage and its pricings
Contact information
---
What is the minimum price for product sampling?
There are lots of variables like campaign objective and size that determine the cost. Usually, there is a minimum number of samples that you should send out in order for your campaign to make sense.
But a product sampling campaign can start from $10,000 going up to hundreds of thousands of dollars.
Depending on your campaign budget and the specific products you want to send out, you need to pay:
Production fees
Shipping fees
A platform management fee for each sample
To break it down, each sample can go as low as $1-2 per piece, or as high as your budget allows you to.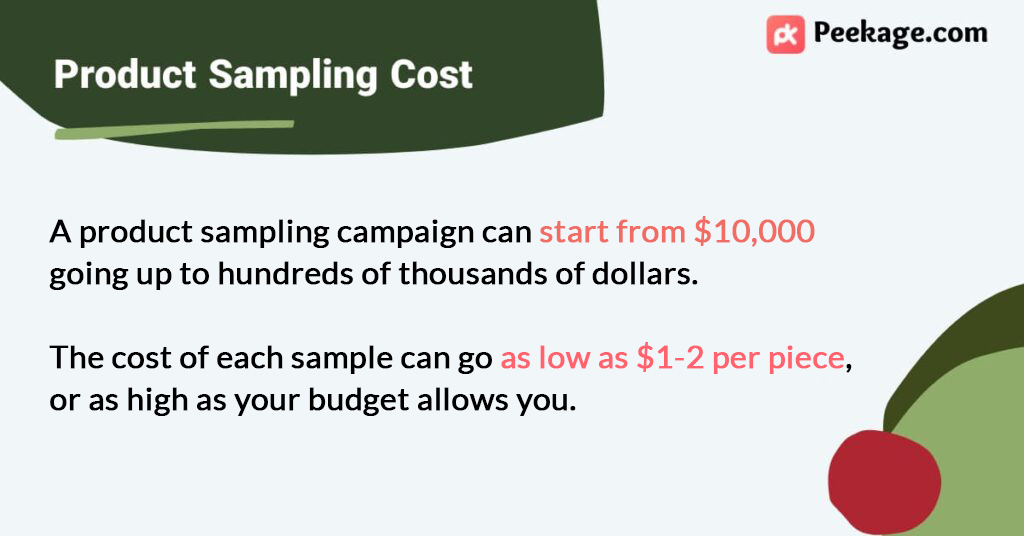 You can reduce your shipping cost by asking your consumers to pick up their samples at a local retail store, or you can try to reduce your overall cost by participating in multi-brand campaigns and sending fulfillment boxes.
You can find the right price for your product sampling campaign, whether you run a small business or a large enterprise, once you choose an all-inclusive platform.
Read more: Maximize the Success of Your Product Sampling Campaign
How is the price of a product sampling calculated?
Several factors contribute to calculating the cost per thousand for product samplings, such as:
Shipping fees
Product dimensions
Whether or not it needs to be refrigerated or frozen
Geographical targeting
Demographics
Number of samples
Duration of the campaign
Supply constraints.
However, if you are planning to send a digital promo instead of a physical product, your campaign will be considerably easier to manage and less costly.
Ultimately, your unique campaign goal determines the cost of product sampling for you, yet other factors such as logistics can drastically change the price.
Is product sampling a viable marketing technique for my business?
What factors contribute to the cost of a product marketing campaign?
Six factors affect the total of your product sampling cost, and to get to the bottom of each element, you need to ask yourself some serious questions: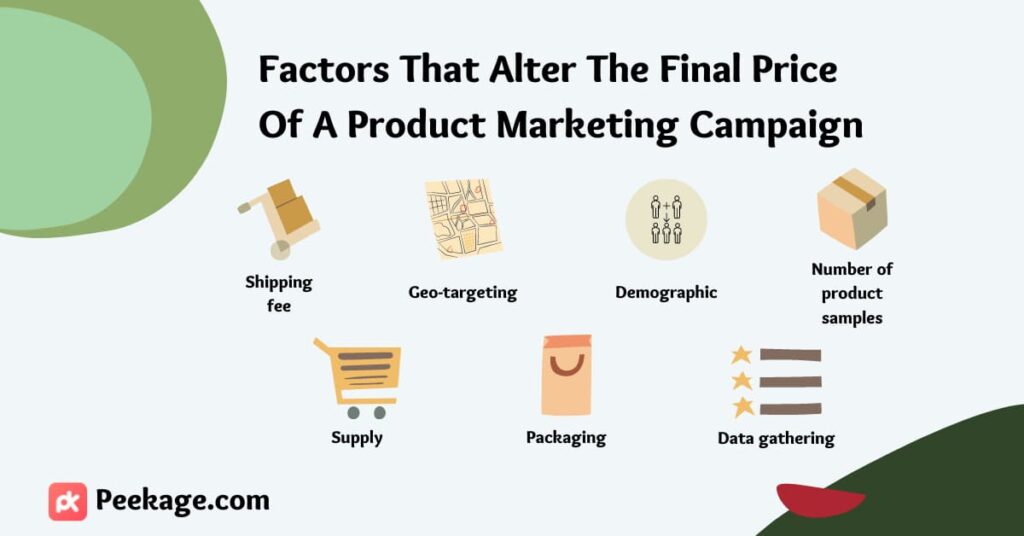 1- Shipping fee
Your shipping fee depends on two factors, dimension, and location. Location-wise, you need to determine if you want to run a national, or a region-specific campaign.
Dimension-wise you need to consider the size of your product and whether or not it needs special handling (i.e. refrigeration).
2- Geo-targeting
Are you planning a national campaign, a regional one, or do you just want to sample to a specific neighborhood?
3- Demographic
Filtering matters! Are you looking for a specific gender or age group, people with certain interests or characteristics? If you answered yes to any of these questions, Peekage offers more than 200 user segmentations.
4- Number of product samples
The ultimate question is how many samples do you want to send out in your campaign? Are you trying to ship a physical product or a digital promo code and coupons?
5- Supply
Do you need to ask yourself how many samples you want to distribute? Is there a limit to the sample numbers? The higher the supply, the lower the cost per piece.
6- Packaging
You need to choose a package that resonates with your brand and gives your consumers the feeling of being important.
7- Data gathering
How are you going to measure the success of your campaign? Who is going to gather these data, and how precise are they going to be? To what depth are you looking to gather data?
Answering these questions will help you consider how much you should pay for the workforce in the most critical stage of your product marketing campaign.
Read more: The Ins and Outs Of Product Sampling Marketing: The Ultimate Guide To Enhancing Your Brand
How to reduce product sampling costs?
Participating in co-campaigns can dramatically reduce the cost of product sampling for you. You just need to find the right pair and the right consumers and save up on all logistics costs.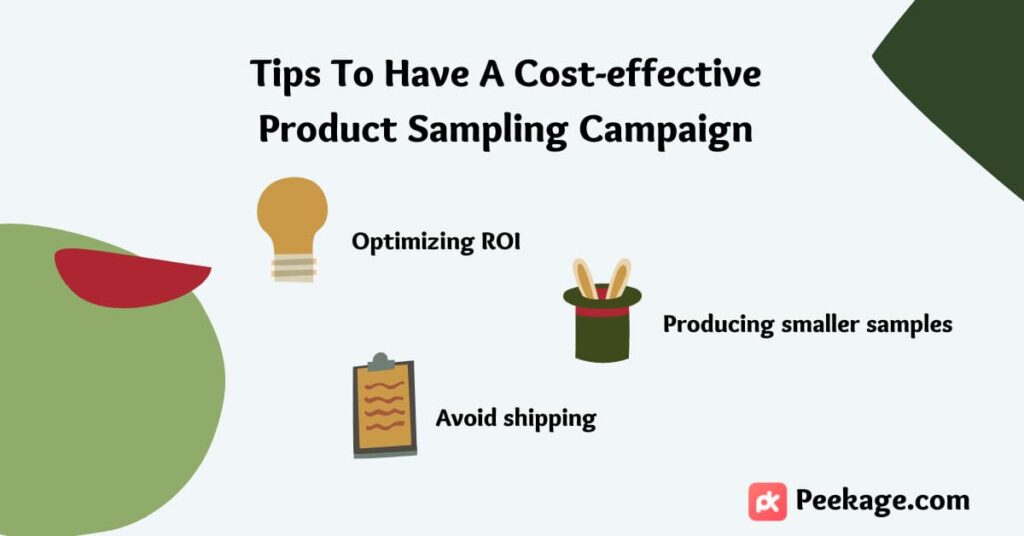 Optimizing ROI
Using a product sampling platform that reaches out to users more than once is key in reducing the cost of product sampling.
A platform with a robust communication channel - like having an app that users frequent - can go a long way to reminding and retargeting.
Essentially, you can reduce costs by optimizing conversion channels after running your sampling campaign. Therefore, reaching out to users and reminding them to buy in various types can help you sell more and reduce your user acquisition cost.
You can also avoid product waste by running a targeted campaign.
Avoid shipping
A more general way to reduce costs is to avoid shipping altogether, by asking users to pick up their samples at a local retailer, asking them to pay for shipping, or sending out coupons.
Producing smaller samples
sending out mini-samples can cost less to produce, and ship.
Essentially, your product sampling cost is in your hand, and you are the ultimate decision-maker.
Read more: Sales Promotion Strategies: From Concept to Practice
Get to know Peekage and its pricings
Peekage is a digital product sampling company that increases your sales through:
Targeted product exposure
Insights
Streamlined feedback collection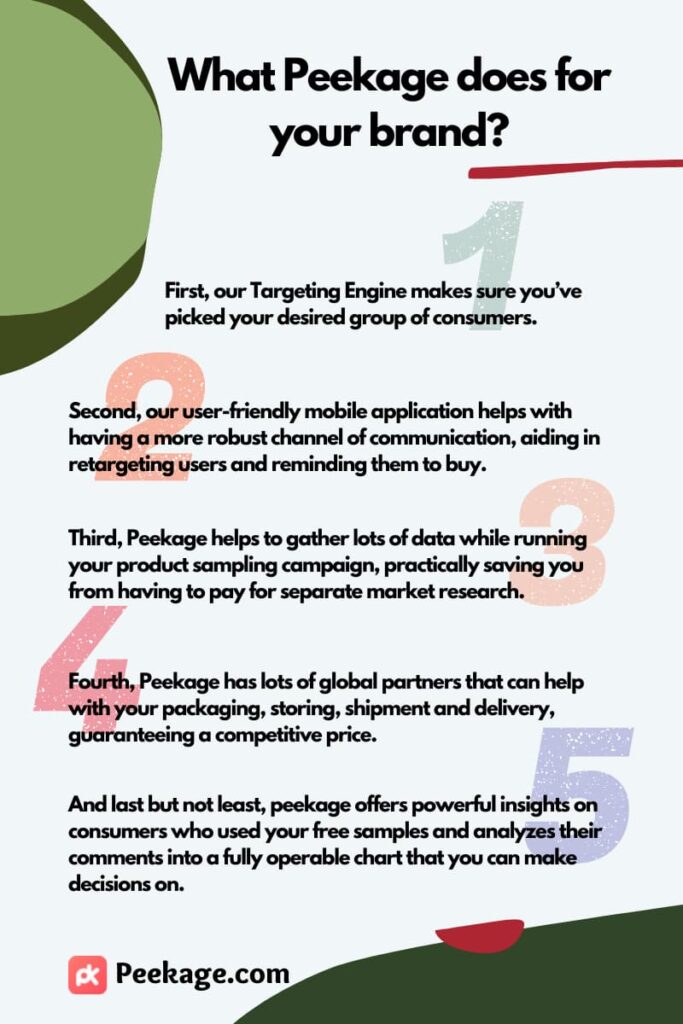 First, our Targeting Engine makes sure you've picked your desired group of consumers; therefore, you will not be wasting any resources.
Second, our user-friendly mobile application helps with having a more robust channel of communication, aiding in retargeting users and reminding them to buy.
Third, Peekage helps to gather lots of data while running your product sampling campaign, practically saving you from having to pay for separate market research.
Fourth, Peekage has lots of global partners that can help with your packaging, storing, shipment and delivery, guaranteeing a competitive price.
And last but not least, peekage offers powerful insights on consumers who used your free samples and analyzes their comments into a fully operable chart that you can make decisions on. This way, you can retarget your consumers for a future campaign at a much lower cost.
How much does product sampling cost for you?