Product sampling, in simple words, is the practice of giving away free samples of a product to your consumers. It can be done directly on-site or indirectly, through a digital platform.
There can be various reasons brands of any size seek help from product sampling; from brand activation, consumer research to sales promotion, you name it. Product sampling, so-called product testing or product trial, has always been a tried and tested method to help businesses grow.
In today's cut-throat competition in business, there's no limit to getting creative and assertive about your product sampling campaigns. It always helps to do a brainstorming session and exchange ideas from different backgrounds and sources.
Also read: How much does product sampling cost? Is it worth it?
Here you can find a list of nine creative product sampling ideas for your next campaign.
1- Sponsor Events
Where is the best place you can find a big group of people in a happy, positive mood? Social, music, or sports events.
Take advantage of the pre-planned events to introduce your new products to the consumers. It totally depends on your budget and how big an event you can sponsor. In some cases, you can collaborate with the event management team and run your product sampling campaign at a lower cost and without sponsoring the whole event.
2- Create An Interactive Event
It can be a fun contest, a street show, or an interactive game on a weekend day when people are more likely to attend your event.
Make sure to promote your event to encourage more and right people to attend it.
These types of events are meant to help a lot with sales promotion as well. Making a memorable experience for your target audience makes them more likely to choose your product over all other options available in the market. That is because they leave your event with a positive feeling and memory and it sticks with them unconsciously.
3- Make It Especially Personal
Let's be honest: everybody thinks they're special. Many brands use this simple fact to touch the emotions of their consumers and make a memorable image in their head. Yves Roches, for example, gives a gift to its customers on their birthday. They can order it online or pick it up from any shop.
Yves Roches, Sephora, Aesop and many other brands have come up with a good beauty products sampling idea. They give away free samples every time their customers make a purchase. This way they're sure the freebies are delivered to the right destination at the least possible cost.
4- Approach Corporates, Universities, Kindergartens, Whatever
Send your samples directly where there's a massive number of your consumers gathered together. It can be a kindergarten if your product is crayon or colored pencils. They get to use your product almost at the same time and share their experience together.
This method can be used for any kind of product: fashion, beauty, edibles, e-commerce products, and whatnot.
5- Accompany Your Sample With A Recipe
Let's say you're introducing a new sauce to the market. You can make an interactive and innovative experience by giving away how-to guides or recipes on how to use the new sauce. It is a secure way to make a good first impression on the consumers with the new product.
The same method can be applied to beauty products. If you're making a new facial mask, add a brief guide and explain how it's going to work best for your consumers.
Also read: Product Sampling Safe Haven: Contactless Product Sampling
6- Surprising Almost Never Fails
How about collaborating with other businesses and surprising your mutual consumers?
Send a tiny sample of your new perfume to anyone who buys clothes from a specific brand. Send a pack of cheese to anyone who orders at an Italian restaurant in a specific area. There's no limit to how creative you can be.
Just think of the best partner in your market and make a win-win deal.
On the other side of the deal, the consumers will surely be happy to get a free surprise pack, no matter how small it's going to be.
7- Go Above And Beyond To Be Different!
It must be hard to stand out in a supermarket and attract attention where there are many brands giving away free samples, isn't it?
Lay's came up with an unforgettable idea to solve this problem. They put Lay's machines, which look like regular vending machines, in the supermarkets. The consumers were given free potatoes and they were supposed to put it in the machine to make it work, like you give change or cash to the regular vending machines.
On a screen you can follow the animated process of making chips in six steps and when the video ends, you get your free pack of chips.
8- Do They Know Where To Find You?
It depends on what business you are in, where you are located or what type of products you make, but if possible, you can pick some specific places to install your stands and give away freebies. If you introduced your last product next to a stadium, cinema, or even a supermarket, go back right there for your future product sampling campaigns.
Let people know where they can find you.
9- Give A Shot To Digital Product Sampling; It's Amazing!
Perhaps it's the most effective sampling idea in terms of reaching the right audience and collecting consumer insights.
Digital product sampling has proved to be cost-effective and helpful in increasing brand loyalty and awareness. Many fashion and beauty brands utilize this method to send samples to their consumers.
The following chapter explains how Peekage, as a leading digital product sampling platform, works.
Also read: Digital Product Sampling vs. Traditional Product Sampling
Digital Product Sampling By Peekage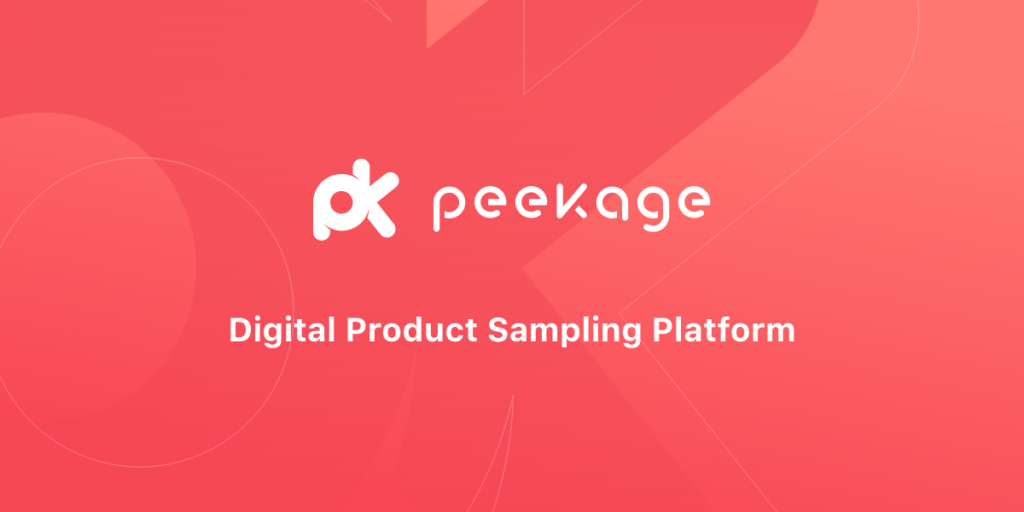 Peekage has made digital product sampling easy. Thanks to its app-based consumer database, the AI finds the best target group to test your product. Peekage team takes care of the delivery and sends the samples to the consumers and afterwards sends them a survey to collect feedback about the product they tested.
At the end, you will receive a detailed and data-driven report about your sampling campaign with which you can refine and improve your product.
Everybody's thinking about going digital. Why don't you?