Tiered customer loyalty programs are customer incentive strategies that help businesses in encouraging their consumers to interact with all aspects of the program in order to build brand loyalty.
Loyalty programs, at their most basic, offer rewards based on money spent or frequency of purchase. A tiered loyalty program takes a step further by providing increasingly appealing perks such as expenditure, brand involvement, or a combination of the two.
Learn everything there is to know about this concept and how it can help your business create more ROI.
What are tiered loyalty programs?
Customer incentive programs that reward various groups (or tiers) of consumers differently are known as tiered loyalty programs.
It typically takes the shape of a hierarchy, with each tier providing progressively more advantages (or more valuable benefits).
The exclusivity that results from such a hierarchy gives customers a sense of importance while also strengthening the relationship between customers and brands.
Also Read: What Is Word of Mouth Marketing and Why Is It Important?
Companies that seek to engage their customers by giving them rewards for their brand loyalty frequently use tiered loyalty programs.
A multi-tier loyalty program differs primarily in that it has an obvious structure. Each client relationship in a loyalty program is clearly defined by using a hierarchical structure.
Therefore, it is anticipated that a client will also need to fulfill a set of requirements established by the business in order to qualify for larger rewards.
How does a tiered loyalty program work?
A tiered system delivers more benefits to those at the top of the tier in order to incentivize loyalty and increase sales. Tiering works well to increase customer participation and engagement. Customers are motivated by tiers to advance through the levels in order to receive the greatest rankings and prizes.
Any loyalty program offers members points they can earn for various actions they take and purchases they make. In addition to customers purchasing your products, you can decide in advance what acts will award points to them.
By gaining more points, customers start to level up in tiers of your loyalty program. You predict how many points clients will need to earn in order to advance to tier two, three, and so on.
Through tiered loyalty programs, you'll be able to retain customers and develop satisfied and devoted followers and customers. Moreover, tiering enables you to divide up your clientele into groups based on loyalty levels.
Imagine you give your customer 20 points as a thank you for joining up. Following that, each subsequent action they take will award them with extra points, which they may then use to redeem a reward when completing their initial purchase.
Benefits of tiered loyalty programs vs non-tiered
Tiered programs are not a new concept, but they are still one of the finest methods to distinguish your brand community.
With more chances to tailor your community to your customers' needs due to the addition of levels to your current rewards program, you can further improve your already first-rate customer experience.
Long term investment
Tiered programs lay the groundwork for long-lasting consumer-brand interactions. Customers return frequently because they see the benefits of sticking with your brand. This means that by creating tiered loyalty programs, businesses will gain more revenue in the long run.
Keep in touch with customers
Tiers naturally present chances for interaction with your customers beyond transactional ones. You can send members communications that are customized, such as:
Program Updates or News
Benefits of Level-Up Opportunities
Notes and Usage Summaries
Exclusive Bonuses & Offers
Gamification is fun
Exciting incentive program features like gamification raise the bar for your brand community. Tiered reward programs become the ideal technique to hook and keep customers by utilizing addicting aspects like progress bars and milestones!
Customers feel valued
Customers in your higher levels are conveyed that you respect their business more highly than a typical one-time customer by receiving richer benefits.
This enhances their interaction with your brand and increases their propensity to become brand evangelists. Your most important marketing asset, these advocates are enthusiastic people of your community who are eager to share their experiences with others.
Tiers Foster Exclusivity
A lot of tiered loyalty programs let members join for free. Everyone can participate in this, and the brand has the chance to gather useful participant data. However, a barrier to the next tier guarantees that only the most devoted clients get to that level and acquire elite status and advantages.
Also Read: 4 Vital Objectives to Guide Your Consumer Research
Emotional Connections through Rewards
Beyond what transactional rewards (like points for money spent) might provide, experiential benefits create an emotional connection. Members who receive experiential incentives have access to experiences that are exclusive to the brand and cannot be duplicated. The customer is totally absorbed in the brand experience, which improves the customer-company bond.
Cost efficient
Retaining satisfied customers is more cost-effective for your company than continually losing clients and gaining new ones. According to research, it costs 5-25 times more to acquire a new customer than to retain an existing one.
How to create a tiered loyalty program?
Do not complicate it
If you want better involvement with your tiered loyalty program, keep it simple. Your clients ought to be fully aware of the requirements for eligibility. Here are some creative concepts to make your tiered loyalty programs simple:
Provide a visual loading bar that indicates the amount they must pay to upgrade to the next level.
Put the several tiers side by side and demonstrate the various value levels.
Make it worth their time by not placing too many requirements on them to upgrade to the next level.
Keeping things simple is always a good idea, regardless of the loyalty program design you use.
Offer value at every level
One of the best advantages of tiered loyalty programs is that nobody loses out on rewards. The value must be offered at each level of a successful tiered loyalty program.
Think about a loyalty program for an airline for instance, where a bronze customer may be eligible for free food and drink. A silver customer could receive a free luggage allowance and priority boarding. A gold member could be granted access to a lounge, early boarding, two checked bags, and first-class seating.
Each level receives rewards, which enhances the consumer experience and promotes additional spending and loyalty. At every level, there are obvious advantages that make devoted consumers feel unique.
Use relevant rewards
Relevant or experiential rewards are extras that come with the purchase. The objective is to go above and beyond the client's expectations and provide them with a unique customer experience.
It is not enough to just offer discounts for items that your devoted clients will presumably buy anyways. Your loyalty rewards program will stand out if you include experiences in it. You might leverage experiential rewards for your VIP clients to do things like:
access to exciting, private events hosted by your brand
Birthday gifts
holding contests and giveaways
Gamifying their prize points so that they can spend them on anything besides the product
Combine gamification with rewards
Gamification is a great way to boost participation in your tiered loyalty programs. Gamification of loyalty programs involves incorporating entertaining, game-like aspects into the user experience.
Earning points, receiving arbitrary bonuses or prizes, unlocking surprise goodies, and lottery-style techniques where anyone may win if they made a purchase within a specified time limit are examples of gamification. Gamification engages your clients and sets you apart from rival companies competing for their attention.
Name the tiered levels
Each tier should create differentiation among customers and they should be rewarded for their loyalty and engagement at each level. You can keep it straightforward with a gold-silver-bronze model or push into a more creative realm.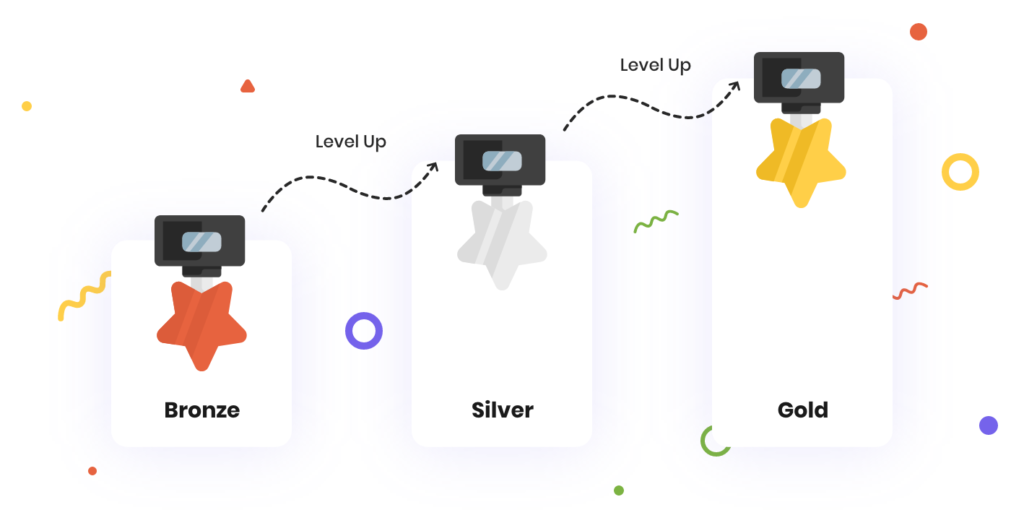 Reward various customer behaviors
Another method to show your dedication to retaining customers beyond simple purchases is rewarding customers that don't make purchases. Customers who subscribe to your blog, use your mobile app, watch product videos, and share content on social media are still valuable indicators that they are engaging with your brand. Reward them for it.
​​Include non-monetary benefits
Include non-monetary benefits around the values of your clients. Customers care about values; in fact, two-thirds are more likely to spend money with firms that take positions on social and political topics they find significant. Therefore, be careful to incorporate such principles into your incentives program as well.
Provide a single campaign progress perspective
This is the next piece of advice is to centralize your data for a successful tiered loyalty program. Your campaign's advancement ought to be visible at a glance. This is especially crucial if you offer rewards both online and in-store. Don't make it challenging for clients to use their points at your business.
Tiered loyalty programs can:
improve marketing ROI
drastically increase revenue
create lifetime loyal customers
drive brand awareness
But if you can't simply monitor the development of your campaign, you can't profit from all those wonderful advantages.
Also Read: Differences Between Market Research and Consumer Insights Research
Best tiered loyalty program examples
There are many various types of tiered loyalty programs available, but the following excellent examples can help you and your team come up with some creative ideas on how to make yours enticing for your most faithful customers:
American Express loyalty program
While differing from other reward programs, the American Express "Black Card," also known as the Centurion Card®, is only made accessible to people who AMEX invites to apply.
The card has no credit limit, so users are free to make any purchases they choose as long as they pay them back within a month. Members receive benefits from airlines, hotels, airports, car rental agencies, and even shopping sprees in addition to admission to major events including sporting events, concerts, theatrical productions, VIP events, and more.
Sephora loyalty program
Sephora, a brick-and-mortar and online cosmetics retailer, established its Beauty Insider customer reward program in 2007, and it was successful for the company.
Beauty Insider offers clients special, one-of-a-kind privileges through a tiered system of benefits. With tailored sessions with top-tier makeup artists, individualized benefits, and product discounts, Sephora has developed a compelling program that encourages customers to continue shopping and dramatically increases their customer lifetime value.
Hyatt loyalty program
The Hyatt Hotels Corporation's loyalty program, The World of Hyatt, allows members to collect points for stays, eating, spa treatments, and other activities. These can then be used to get incentives like free hotel stays and experiences.

The World of Hyatt membership is free to sign up for, allowing the customers to earn and redeem points with their hotel stays. To qualify for higher tier membership, there is a minimum need for nights spent, points gained, or meetings hosted.
The benefits of this tiered loyalty program include premium internet, complimentary parking, late check-out, and check-out, the option to share hotel perks with friends and family, last-minute assured availability and more.
BMW loyalty program
The BMW loyalty program is offered to Current BMW Owners, Former BMW Owners, Current BMW Financial Services Owner/Lessee, and Former BMW Financial Services Owner/Lessee.
This program offers the customers BMW credit. This credit can be collected and used for discounts and items and accessories for your car.
Also read: Seven consumer research methods; 2022 version
Hilton loyalty program
One of the most well-known hotel rewards programs is Hilton Honors, the hotel chain's loyalty program. With over 6,500 hotels in 119 countries and territories, members have numerous opportunities to earn and redeem points.
There are several benefits to choosing Hilton Honors, such as its 18 hotel brands that serve travelers of all income levels as well as its generous elite program, which includes a quick path to elite status with the Hilton Honors American Express Aspire Card.
What to learn from these loyalty program examples?
The most successful offers are those that are targeted and tailored. By personalizing a customer's experience based on their past purchases and other data, you can increase engagement and conversions.
Your proposals will be more persuasive if they are more specialized and targeted. You can increase engagement and conversions by creating customized experiences for each consumer based on their purchase history and other data sources.
Cost of creating a tiered loyalty program
Before going into budgeting, there is one option that will have an impact on the entire budget planning process: who will build your loyalty program? There are three alternatives to consider:
In-house planning
Custom plan by an agency
Using a Loyalty program software
Another element of budgeting tiered loyalty programs involves management, marketing, and technology. This section is intended to cover any expense that may be easily traced. For instance, how many people do you want to devote to loyalty program management? What should the size of the launch campaign be? If you choose a SaaS solution, you may also predict how much the membership charge will be in the future.
HR costs
Marketing costs
Technology cost
Finally, unlike marketing and technological expenses, it is more difficult to calculate a bottom line for your reward system because incentives vary greatly. You will need to make changes based on client input, such as deleting unpopular awards or introducing new rewards for holidays or special events. If you calculate the reward costs correctly, they will contribute to your revenue growth rather than detract from it.
Final words: How to make your tiered loyalty program stand out?
While tried-and-true strategies such as gamification, value-add marketing, and experiential rewards are always great ways to provide customers with an unrivaled experience, there is no limit to how you may differentiate your loyalty program from your competitors' loyalty programs.
It's critical to keep an eye on what your competitors are giving in order to ensure that your own loyalty program doesn't fall short in any vital areas.
Similarly, keeping an eye on developing trends and advances in the customer loyalty area means that your company is always among the first to embrace these innovations, keeping you ahead of the game!