B2B Loyalty Programs should be a part of any business that is hoping to make it in this market. This popular strategy makes sure your customers are happy and satisfied as a result of which you are making a more significant turnover.
Customer churn can be a major source of concern for B2B companies. Despite having fewer customers than B2C businesses, B2B transaction value is much higher. This is due to the fact that B2B customers are more likely to order in bulk and are bound by longer-term contracts and subscriptions.
Customer retention and satisfaction are top priorities. According to Forrester Research, a 2% increase in customer retention affects profits as a 10% cost reduction, and the average company loses 10% of its customers each year. Customers must be encouraged to make additional purchases from your company. This introduction highlights the value of B2B loyalty programs for businesses.
What are B2B loyalty programs?
B2B loyalty programs (or B2B rewards programs) are customer retention solutions that include specific features and loyalty logic to assist businesses in establishing brand loyalty with their client businesses. They are vastly different from their B2C counterparts, in terms of incentives and progression.
With the B2B eCommerce market alone expected to reach $1.8 trillion by 2023, it's understandable that businesses in this vertical want to increase their market share. One way to accomplish this is to ensure that existing clients or contacts remain loyal, satisfied, and engaged.
In order to encourage repeat purchases, a consistently positive customer experience should never be ignored.
Customers are much more likely to make repeat purchases with any brand when they receive both a good and more individualized experience.
Technology is essential if you want to deliver the right offer to the right customer at the right time.
Why are loyalty programs important?
Encouraging customer loyalty is crucial for B2B businesses because it enables them to create lasting connections with their clients and, eventually, gain access to more opportunities. B2B customers, as opposed to B2C, represent a much larger pool of potential business engagements, some of which may be incredibly rare.
Also read: How Consumer Insights Help Your Business Grow
Additionally, customer loyalty develops into recommendations, which lead to:
Increased brand awareness
New client acquisition
New cross-sell/upsell opportunities.
The foundation of your customer's satisfaction will undoubtedly be the caliber of your products and services. No loyalty program would make up for that. However, B2B loyalty programs are unquestionably the key element if you want your clients to eagerly anticipate each new business encounter with your company.
Research from Gartner shows that 78% of B2B buyers with new business needs are just as likely to select a new supplier as they are to expand their account with an incumbent, making it more crucial than ever to discover strategies to level the playing field and keep a customer.
How can your b2b business benefit from loyalty programs?
A loyalty program can assist your business with a wide range of problems, outcomes, or tasks related to its line of work. Here are 7 benefits that a rewards program can provide for B2B businesses:
Increase top-line sales by encouraging repeat business
Repeat customers typically spend more money and are more inclined to try new products than new customers. To see their revenues grow over time, b2b businesses should consequently seek to develop a customer base that has faith in and loyalty to their brand.
Boost a customer's LTV (lifetime value)
Customer lifetime value is important since, generally speaking, bigger numbers mean more income. Both acquiring new clients and keeping your current ones will always require spending money, but the former is five times more expensive. Once you are aware of it, you can raise your customer lifetime value through b2b loyalty programs.
Expands your reach to decision-makers and influences their purchasing and selling behaviors
The customer decision-making process represents the five steps a consumer takes to make a purchase. You can increase your chances of successfully marketing your good or service by understanding how consumers make decisions.
Reduce the overall cost of loyalty
Reduce the anticipated total cost of b2b loyalty programs by shifting away from discounting and toward a balanced program that incorporates monetary incentives and best-in-class client experiences.
Decrease the overall cost of loyalty
Moving away from discounting to a balanced program that adopts monetary incentives and a best-in-class customer experience can minimize the overall estimated costs of b2b loyalty programs.
Also read: Benefits of Using Consumer Insights for Brands
Help you understand the needs and wants of your clients
Every successful business, whether it sells products directly to consumers or to other businesses, is built around knowing and understanding the needs of the client. Once you are aware of this, you can use it to persuade both existing and potential customers that working with you is in their best interests.
Referral rewards
Referrals play a very important role in acquiring B2B clients. Over 90% of all B2B purchasing decisions are influenced by peer referrals, and 84% of B2B buyers begin the purchasing process with a referral.
You can inspire and encourage customers to become more active and engaged with your company by putting in place a robust loyalty program. Build a referral program inside your loyalty initiative that rewards current customers for successful new business possibilities to make referrals simple for already happy consumers.
Difference between b2b and b2c loyalty programs
Be aware that standard B2C rewards programs are not a viable model to follow when creating B2B loyalty programs. Instead, incorporate elements that reflect the B2B market emotion into the system from the very beginning. The following is a list of distinctions to be aware of:
Variety of Loyalty Programs
For a B2B reward system, point collection and redemption are less efficient. Tiers and perks match better because transactions in this industry are frequently subscription- or commitment-based.
Tiers: In a loyalty program, tier progression is usually based on spend or points. For B2Bs, this means that instead of allowing customers to progress on their own, they are automatically placed in a tier based on the volume of the deal.
Perks: It has no points system, tiers, or anything else that encourages progression. Members, on the other hand, have access to all benefits the moment they enroll. B2Bs can use the perks approach to create a VIP club for their customers.
B2B loyalty programs, dissimilar to B2C programs, demand customers to sign contracts or make purchases in order to participate. Additionally, subscription-based models are better suited for B2B reward programs.
Personalization for B2C businesses typically entails segment-specific offers management and more relevant email communication. B2B companies find themselves in a place where part of their rewards needs to be specifically targeted to each client because their customer bases are often smaller and more valued.
B2B enterprises cannot rely on FOMO, such as limited-time holiday deals, to encourage customers to join because these businesses face a longer, more complete decision-making process. They should place more emphasis on the long-term advantages that members enjoy.
Also read: Seven Consumer Research Methods; 2022 Version
While B2C reward systems take advantage of discounts, double-point promotions, and early access, B2B loyalty programs frequently emphasize prizes that help clients grow their businesses or unique experiences.
B2C businesses take advantage of loyalty programs as an incentive to sign clients up and collect their contact information at the same time. B2B businesses typically already have the contact information for their clients, but they can use paid surveys to get insightful feedback from their clientele.
In addition to purchases, next-generation loyalty programs can increase brand love through a variety of KPIs. B2C businesses use it to reintroduce discontinued items, promote product pages on social media, and encourage application usage. Instead, B2B organizations can encourage partner brand advocacy and train them to enhance upselling or exhibit corporate responsibility.
Opportunities and challenges in B2B loyalty programs
One important reason why B2B companies should implement a loyalty program is that selling to clients generates more profit than selling to consumers. As a result, it is critical to keep your most valuable clients and ensure their loyalty. Attracting new customers in the B2B space, on the other hand, is a more time-consuming process.
B2B businesses have fewer deals and customers than B2C businesses, but the deals are much larger. These transactions have a longer and more formal purchase process, with an emphasis on developing long-term relationships. Furthermore, demand in the B2B market is not direct and fluctuates greatly due to its reliance on consumer trends.
Other B2B market challenges include:
Most B2B clients have limited budgets, which means you must compete with competitors who may offer your product or service for less money. This is why it's critical to provide truly valuable rewards to your customers.
Many large corporations have strict anti-bribery laws that prohibit certain businesses from receiving any type of monetary reward. Some companies will not even let you treat them to a meal. So be cautious about the types of rewards you incorporate into your B2B loyalty program.
Buying decisions are typically made by multiple people in a company, making it difficult to know who to reward on an individual level. Instead, offer rewards at the account level, such as a discount or special terms.
How to create a loyalty program for b2b businesses?
There are various types of customer loyalty programs; some are better than others for a variety of reasons, but the majority of them fail for the following reasons:
Insufficient use of sales data
The unfriendliness of the reward program
To avoid falling into such traps, in this section we'll focus on the fundamentals of developing a top-notch customer loyalty program for b2b businesses.
Also read: What Is an Online Focus Group? Everything You Need to Know
Step one: Define the purposes of the program
Ask yourself what to do wish to accomplish with this loyalty program. Is it new customers or customers in the downstream purchasing through distribution, or your internal or channel sales team? Maybe even all of them!
While defining the purpose of your loyalty program, keep in mind that all of these audiences can benefit from reward programs, but the programs must be tailored specifically for each group.
Step Two: Access sales data for each group
At the core, loyalty programs are simply sales tools that are data-driven. You can't define program goals or measure results if you don't have sales data.
Decide how to acquire the necessary data if you don't already have access to it. Potential data sources include your own sales data, data from your distributors, and data submitted by program participants.
Step Three: Analyze sales data
Data is truly a gold mine, but just like a gold mine, it takes a lot of work to get the value out. Don't underestimate how much work goes into this crucial area of a successful loyalty program.
To identify purchasing trends and related sales insights for your program to leverage and act upon, you need an experienced data analyst as well as the tools and technology to enable them to do their job.
Step Four: Trailer the program to each participant
The purchases made by each customer vary from those made by the next, and each account may have different sales opportunities.
Use your data to group similar customers together, then create segmented offers that are based on what they have previously purchased or what you want them to purchase.
Step Five: Make it user-friendly
Make it simple to sign up for the program and use it afterward. Make sure to offer personalized reward statements that push this information to program participants on a regular basis, negating the need for them to even log in to the website until they want to redeem their points for something.
Provide program participants with an easy-to-use reward website that includes all the reward information they want (current point balance, earning history, available bonus offers, etc.). Customers who are satisfied become loyal to your brand and even advocates.
Step Six: Analyze and make program adjustments
A rewards program shouldn't be constant. Programs should develop in accordance with your business strategy while also learning from program evaluation and market or business conditions.
A reward program is a data-driven tool, making it relatively simple to assess its effectiveness and return on investment. B2B loyalty programs should also be profit centers.
In order to ensure that a program is producing excellent ROI, changes must be made to the structure, rules, and offered values as you go on with the program and analyze data.
B2B loyalty program examples: What are some good practices?
Let us now look at some inspiring B2B loyalty program examples.
Designing referral programs
One of the most well-liked and simple-to-use loyalty programs is the referral program. They are frequently designed so that you receive more bonuses as you refer more clients.
Customers who have just been referred are also eligible for this bonus. Because of this, taking part in the program benefits everyone.
For Example, A SaaS provider of cloud-based business applications provides extra user capacity for new referrals and an expanded package for recently referred clients.
Planning events for members
Enterprise customers typically develop lasting relationships with their partners and suppliers. This is why physical events give businesses a great chance to meet their customers, cement relationships, and learn about their actual product usage.
For Example, An email marketing software provider organizes both free and paid conferences, trade shows, meetups, and retreat events for its B2B users to foster loyalty and inform them of issues affecting their respective industries.
Co-marketing and support activities planning
Co-marketing campaigns with your partners are a fantastic customer acquisition strategy in addition to being a successful b2b loyalty program.
You can participate in more trade shows, have a larger email marketing audience, and increase traffic to your website using content remarketing by splitting the work and expenses between two or more parties.
For Example, In collaboration with its important software development partners, a telecom operator exhibits its new cloud service platform at a major technology event.
Using tier rewards
Tiered loyalty program incentives encourage business clients to make larger purchases and spark customer engagement from the start.
To get customers to sign up for the loyalty program, you can start with simple membership rewards. As they make more purchases, you can upgrade the rewards you give to loyal customers.
For Example, A manufacturer of equipment rewards its distributors by giving them points based on how well they perform in sales. Buyers can level up from one tier to the next by accruing more points. More advantages, better pricing, or other incentives might be available as you advance to the next tier.
Cost of creating a b2b loyalty program
Ask yourself who will build your loyalty program before you start budgeting. There are three options to think about: planning it yourself, asking an agency for a custom plan, or using software for your loyalty program.
Budgeting for b2b loyalty programs also includes
management,
marketing,
and technology.
This section is meant to include any expense that is quickly traceable. For instance, the costs of HR, marketing, and technology, all of which depend on the scope of your program, your incentives, and essentially everything you'll need to make your b2b loyalty program a reality.
Also Read: Differences Between Market Research and Consumer Insights Research
Finally, remember that because incentives differ greatly, it is more challenging to determine a bottom line for your reward system.
Additionally, you will need to adjust based on customer feedback. If the reward costs are calculated properly, the loyalty program will increase revenue growth rather than decrease it.
Final Words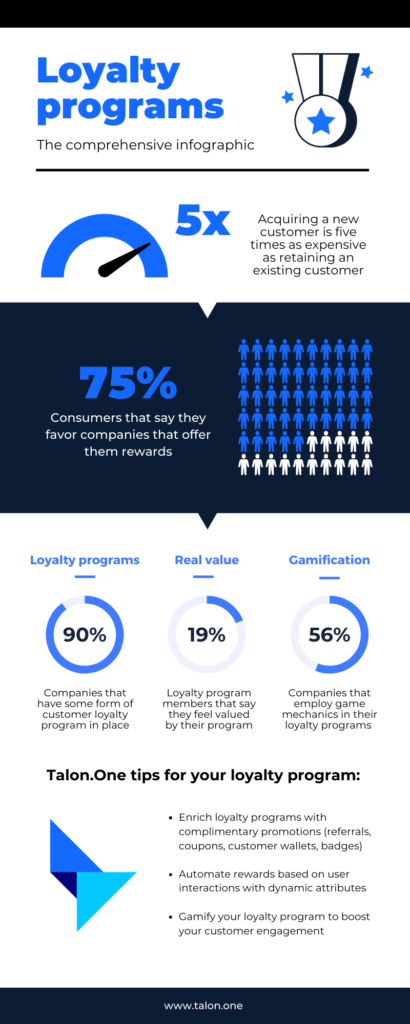 Any referral or loyalty program's main objective is to provide rewards that your end users value. A B2B company's loyalty program rewards must take different factors into account because of how it operates differently from a B2C company.
It's critical to realize that working in the B2B market entails interacting with a group of individuals with various roles and needs rather than a single user.
This makes it easier for you to understand who your end users are in reality, which ones you are attempting to inspire, and what they value in light of their roles and responsibilities within their organizations.