When it comes to launching a new product, there are many examples of companies using product sampling to spread the word about their product. By letting consumers try it for free before buying, companies get a chance to engage with their audience and encourage them to generate hype, traffic, awareness, and feedback.
In this article, we will go over five examples of successful product sampling campaigns that created great value for brands. Also, we briefly explain how you can get started on your own product testing campaign.
5 Brands That Nailed Product Sampling Campaigns
In this section, we go over five brands that got amazing results with their product sampling campaigns. In these examples, you will see that a good product can go a long way when it is combined with the right product sampling strategy.
a) Kraft Heinz
Kraft Heinz releases new products on a regular basis because consumers always crave fresh flavors from well-known brands. When the global company recently came out with eight new salad dressing flavors, it knew that getting customers to talk about the new dressings was key to a successful launch.
Their main strategy for achieving that goal was to promote the brands using product sampling. So, Kraft Dressings Vinaigrettes, Twisted Ranch, and Bitten samples were distributed to a targeted group of 13,500 consumers who were then encouraged to write reviews and post on social media about their experiences with the products.
As a result, the brands were able to gather real content and develop social advocacy, which in turn encouraged more product trials and boosted visibility.
The three product sampling campaigns resulted in 98,000 pieces of user-generated content (UGC), 20,000 reviews, and 39 million impressions from 369,000 social posts, shares, likes, and comments from consumers.
According to Elizabeth Northrup, Associate Brand Manager for Kraft Dressings Vinaigrettes, Twisted Ranch and Bitten, these product sampling campaigns over-delivered on their targets, creating 2x the product reviews they expected, and earning media over 5x the program investment.
b) Glade
Glade wanted more people to try out its home air freshener. But as online shopping becomes more popular, fewer customers are visiting physical stores to get free samples or watch product demonstrations.
To solve this problem, they enlisted the help of Walmart for a unique product sampling campaign. Glade took the packing pillows used to protect products during home deliveries and filled them with their air freshener.
So, as people unpacked their Walmart purchases and popped their pillows, the scent of Glade's spring fragrance wafted through the air. They also printed a QR code on the packaging that people could scan to buy Glade's products directly.
Ogilvy Chicago, the ad agency behind the campaign, claimed that Glade home fragrances had an 83 percent boost in sales on Walmart.com thanks to this innovative product sampling idea.
c) Sephora
Beauty Insider, the wildly popular reward program from Sephora, includes product sampling as an integral part and major benefit of its strategy. The cosmetics company is well-known for providing free product samples with each online order. There are a few reasons why this is a great tactic.
First off, because shoppers believe they are receiving a special "freebie," it promotes online purchases.
Additionally, loyal customers enjoy the feeling of receiving rewards for their patronage and being appreciated by the brand.
Finally, because the sales happen online and customers can select their own samples, Sephora is able to monitor whether or not those customers go on to purchase the product in their subsequent online shopping session.
If you're wondering how product sampling has worked for Sephora, know that there are 17 million participants in the Sephora reward program in North America alone, and they account for 80 percent of the company's revenue.
d) Cheerios
In 2018, Cheerios saw a chance to take advantage of Amazon's e-commerce algorithms to potentially market its product to over 100 million Amazon Prime members in the US. Cheerios used product sampling as part of its strategy to capitalize on Amazon Prime Day (16 - 17 June) and position Honey Nut Cheerios as Alexa's cereal of choice for Amazon customers.
During the campaign, Cheerios gave away a family-size box of Honey Nut Cheerios to any Amazon customer who spent over $40 on Amazon Pantry, the Prime-only service that sells low-cost groceries and household goods. Along with their box of cereal, the customers also received a $10 discount.
The advantages were two-fold for Cheerios. In addition to promoting the brand to new customers with a free sample, this transaction automatically created a Cheerios shopping history for millions of Amazon Prime shoppers.
This gave the product a huge boost in Amazon's recommendation algorithm and moved Honey Nut Cheerios to number one in the cereal category and even the number one grocery item on Prime Day.
e) Anheuser-Busch
One of the biggest and best-known brewing companies in the world, Anheuser-Busch produces a wide range of popular alcoholic drinks, including Michelob, Bud Light, and Budweiser.
In 2020, when the company launched its hard seltzer brand, Bud Light Seltzer, its existing in-store sampling programs had been discontinued due to the COVID-19 pandemic.
As an alternative, they collaborated with a digital product sampling platform and developed a digital sampling campaign to encourage first purchases, track repeat purchases, create user-generated content, and even spread word of mouth.
In less than two months, the campaign resulted in an 82 percent positive shopper sentiment, with first-time buyers accounting for 89 percent of purchases. Additionally, each consumer rating of 7 or higher was used to create and publish high-quality content on Product 1 and Aisle 9, averaging 7.5 views per article.
How to Do Product Sampling?
Product sampling could be different for each project, but there are six basic steps to take if you want to run your campaign successfully.
1. Define your goals and objectives clearly
Ask yourself what you hope to achieve through the campaign. Is it brand or product promotion, more sales, or consumer feedback? The answers can help you design the best strategy to get you there.
2. Create a persona of your target audience
Ask yourself who your ideal customers are. Create a customer persona that includes various attributes such as their challenges, preferences, and demographic information. You can also think of it this way: who will be the most willing to buy your product?
3. Time your product sampling campaign right
Start campaigning for your products a few weeks or even months before launching them.
This will encourage reviews and give customers a chance to learn more about your product. Additionally, choose the ideal time to launch your product.
For instance, consider releasing your line of school supplies a few weeks before the start of the next semester.
4. Post-sampling research
You can contact your audience via email for surveys and feedback after they've received the samples. There are programs and businesses that can take care of the entire product sampling procedure for you and even handle the challenge of post-purchase updates.
5. Review
Encourage participants who had a positive experience with your product to write reviews and share their experiences on social media. This makes other potential buyers more confident to try out your product through positive word-of-mouth and social proof.
6. Repeat
There is no end to the process of product sampling. This process can always be modified and repeated to collect feedback or create relationships with customers.
You can learn more about running a product sampling campaign by reading:
Ultimate Guide: Product Sampling Strategies, Methods & Techniques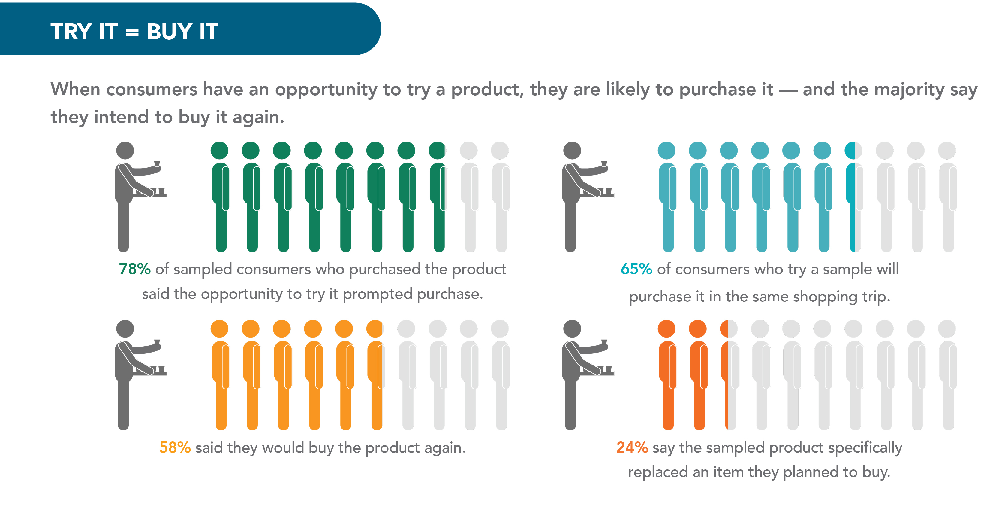 Product Sampling in the Digital Age
The digital age of technology has made it convenient for both businesses and consumers to connect with each other. Digital product sampling is the natural evolution of the traditional product sampling method in the modern world.
This method allows your brand to narrow down your target consumers and reach them in an optimized manner by using analytics and more.
It has been gaining popularity consistently, especially since the onset of Covid-19 pandemic, when many brands were forced to discontinue their traditional in-store sampling campaigns.
These are some of the advantages of digital product sampling over traditional ones:
Targeting specific audiences and not a vast number of random by-passers.
Delivering higher consumer satisfaction scores and a sales boost.
Making a genuine and lasting connection between you and your consumers.
More accurate and efficient data collection.
Digital Product Sampling Made Easy
Peekage is a personalized digital product sampling platform that allows consumer brands to conduct targeted at-home product trials. Our program sorts through 200+ shoppers' attributes and categorizes them based on their buying patterns and interests.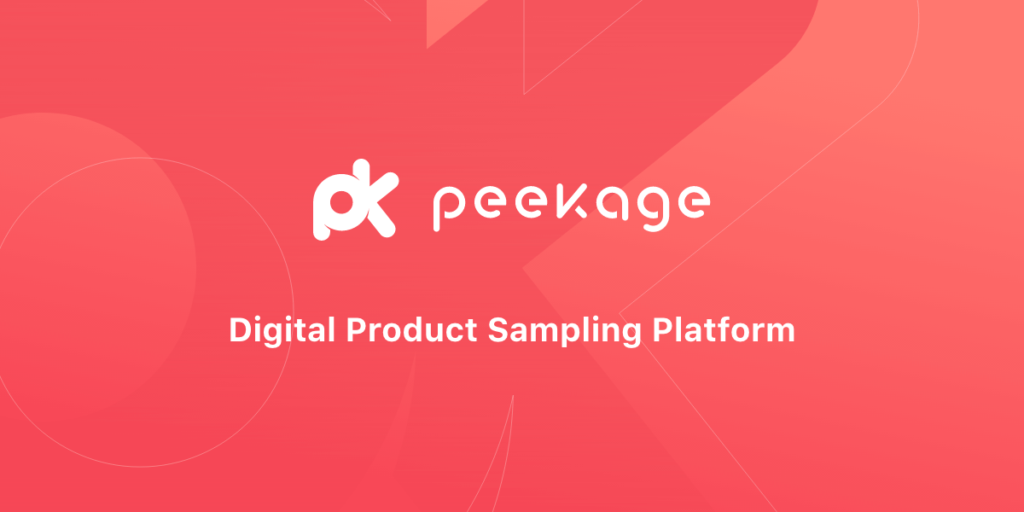 Peakage performs customized customer surveys and analytics on users who have tested your product or service. You will receive valuable feedback that will assist you in discovering actionable insights that can inform strategy, messaging, product positioning, and more.
If you want to kickstart your product sampling campaign, book a free consultation with one of our experts.
Conclusion
As you can see from the examples above, product sampling is a great tool to have in your toolbox if you're looking to get your potential users to try your new product, talk about it online, or give you feedback. It can significantly reinforce your marketing and sales efforts if you do it properly.
Want to learn more about sampling? Read our Definitive Guide to Product Sampling.
Key Takeaways
Product sampling comes with some upfront costs, so you must track the right metrics to determine whether it was successful and worth the cost.
As with any marketing effort, tailor your sampling to the group you're targeting.
As you can see in the examples above, the right partnership can play a huge role in your product sampling campaign's success.
Tie your campaign to other relevant cultural or social events to ride the wave and gain traction.
Sampling can serve as a part of an ongoing customer loyalty program to build trust and strengthen your relationship with your customers.